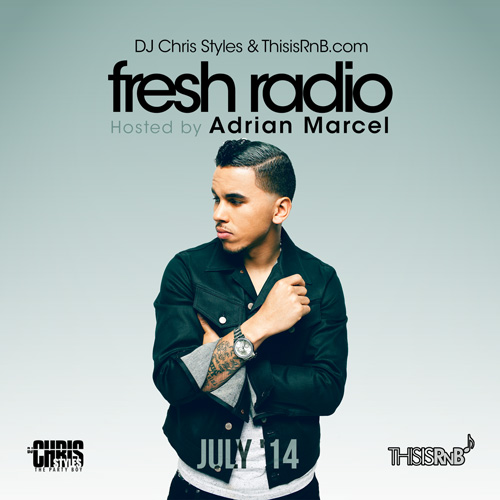 It's about that time again! July is here and we are bringing you this month's brand new 'Fresh Radio' mixtape with DJ Chris Styles of Sirius XM's 'The Heat,' and hosted by rising singer/songwriter Adrian Marcel.
The 60 minute live mix features some of the hottest R&B singles climbing the charts and rockin the clubs right now, from the likes of Usher, Trey Songz, Sebastian Mikael, Jhene Aiko and many more. Plus exclusive interlude breaks from Adrian Marcel, who is just coming off a very successful performance at the BET Awards and BET Experience late last month, and is getting ready to officially release his second mixtape 'Weak After Next.'
Follow the jump to stream and download the mix now!!
#FreshRadio
Tracklisting:
01. Adrian Marcel Intro
02. Usher feat. Juicy J – I Don't Mind
03. Mariah Carey feat. Wale – You Don't Know What To Do
04. Sebastian Mikael feat. Rick Ross – 4 U
05. Adrian Marcel Break
06. Adrian Marcel feat. Sage The Gemini – 2am
07. Netta Brielle – 3xKrazy
08. Trey Songz feat. Nicki Minaj – Touchin, Lovin
09. Adrian Marcel Break
10. TeeFlii feat. 2 Chainz – 24 Hours
11. Mack Wilds feat. Pusha T – My Crib
12. Chris Lawrence – Withdrawal
13. Gabi Wilson – Something To Prove
14. Adrian Marcel Break
15. Adrian Marcel – My Life
16. Adrian Marcel – Love You Right
17. Chris Brown feat. Usher & Rick Ross – New Flame
18. Jhene Aiko feat. Cocaine 80's – To Love & Die
19. Adrian Marcel Break
20. Usher – Good Kisser
21. Joe – First Lady
22. Tank – Dance With Me
23. Goapele – Hey Boy
24. Sam Smith – Restart
25. Adrian Marcel feat. Kelly Rowland – Honey
26. Marsha Ambrosius feat. Dr. Dre – Stronger
27. Adrian Marcel Outro
DL: DJ Chris Styles & ThisisRnB – 'Fresh Radio' (July '14) (Hosted by Adrian Marcel)