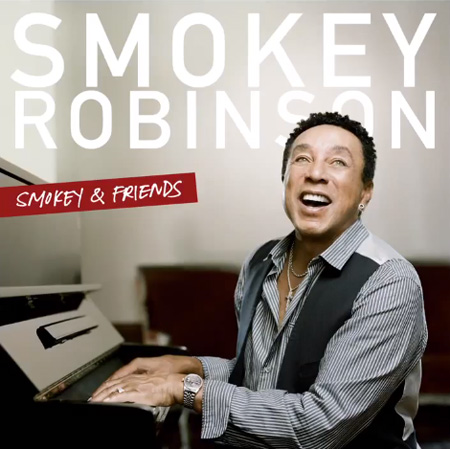 Legendary artist, songwriter, producer Smokey Robinson is bringing something special to new and old fans this summer with the upcoming release of his new duets album Smokey & Friends, due out August 19 via Verve Records.
The LP includes a roster of contemporary and classic artists who revisit the best loved songs from Robinson's unmatched catalog of hits, including those he has written for his solo career, his Rock and Roll Hall of Fame group, The Miracles, as well as hits he wrote for others, including Marvin Gaye and The Temptations.
On the Randy Jackson-produced set, Robinson is joined by old friends like James Taylor, Sir Elton John, Steven Tyler, Sheryl Crow, and Mary J. Blige, as well as with some of today's hottest artists including John Legend, John Mayer, Miguel, Aloe Blacc, CeeLo, Ledisi and Jessie J.
John Legend has joined Smokey for a duet of his elegant ballad "Quiet Storm" off of his 1975 album A Quiet Storm.
The contemporized version feels like a new classic upon the first notes. Take a listen below!
Smokey & Friends Track Listing:
01. The Tracks Of My Tears – Elton John
02. You Really Got A Hold On Me – Steven Tyler
03. My Girl – Miguel, Aloe Blacc & JC Chasez
04. Cruisin' – Jesse J
05. Quiet Storm – John Legend
06. The Way You Do (The Things You Do) – CeeLo Green
07. Being With You – Mary J. Blige
08. Ain't The Peculiar – James Taylor
09. The Tears Of A Clown – Sheryl Crow
10. Ooh Baby Baby – Ledisi
11. Get Ready – Gary Barlow