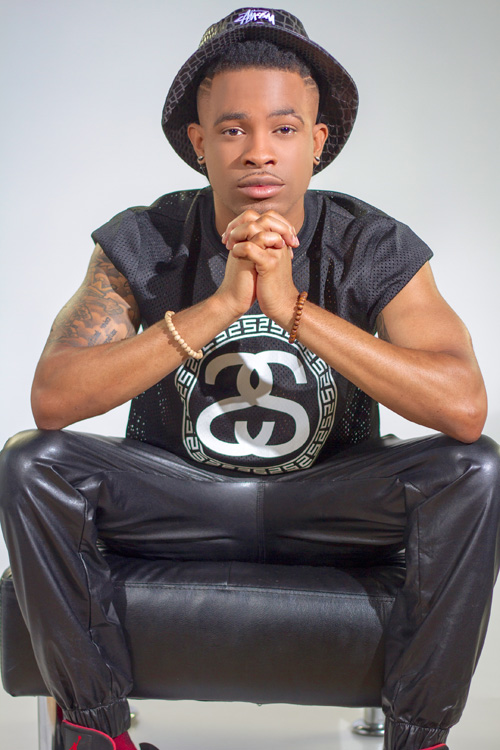 One thing more difficult than obtaining your dreams is building up the courage to actually follow them. Although the public looks at your success as obtained overnight, the long road and lonely moments prove different. While fans of R&B crooner Elijah Blake may feel as if his stardom has come to light more recently, the hardworking singer-songwriter has been on his grind for quite some time now.
Penning tracks for many of your favorite artists, it wasn't until his angelic voice was heard on Rick Ross' 2012 single, "Presidential" and again on The Game's "Freedom" that the attention began to center around the talented star. Taking the opportunity to release his debut EP Bijoux 22 the same year, Elijah had finally found his time to shine as his own artist.
Now, working with some of the top stars on the year's most anticipated projects, Elijah Blake is ready to get things moving for the biggest star of them all…himself. With plans to release his dark and mysterious EP Drift this fall and his debut album Songs About Melody next year, Elijah has grabbed the attention of R&B lovers everywhere. With releases such as "Towers of Tokyo," the talked about "6," and the newly released "Wicked," one thing we do know is that he has no plans of disappointing.
Finding some time to chat with ThisIsRnB, the talented artist let's us in on the creation of his projects, working with the big stars, his journey into being his own artist and more. So, grab your popcorn and get settled because this is definitely one you don't want to miss!
Catch the exclusive interview below!
First let me start by saying congratulations on the elevation of your career. You've been around for a while, so I wanted to get your thoughts on how the transition from behind the scenes to now being your own artist and not just a songwriter or hook singer.
It's been good. I just feel like it's a process because of the avenues that I'm taking and the people behind me are interesting. There are some easy routes and shortcuts to go, but I feel like man if I waited this long to share my artistry with people, I wanna do it the right way. I could do the typical song that everybody is doing, have the expected hit, and go that way. I just want people to know that this is real to me. I want to make real music. I want to follow in the footsteps of Prince and those people who inspired me to do music. I'm just glad to start seeing people support that and be appreciative of that.
Let's talk about the song "6". I know it's very personal to you and it reveals a lot of personal stuff. How was that process actually letting that out and what made you put it through song.
Um, that song is still like a liberation for me. One of my favorite people to work with – his name is Anthony – he came to me with the idea and at the time I was like 'What did I go through at six-years-old to make me act the way I do or fight some of the battles that I have or some of the struggles that I have'. I remember at six, I used to live with my father because he and my mother separated at the time. My mother was like "I still want my son to get the benefit of being raised by a man." So, she took my sisters and I went with my father. He was a guy from the islands and I don't know if in his mind he thought he was being abusive or if that's just how he was raised to discipline a child, but for me as a child, it just was a lot. I realized how some of that affected me later on in life.  So, I came back to Anthony like, 'Look, I feel what you saying and where you coming from with what you went through at six-years-old and with religion, but here's my truth in it – let's take it this avenue'. So when we put it in the song and I would listen to it back, I was like 'Wow, this shit is hot and heavy'. But when the video came out and I watched that…it's still hard for me to watch now. Even when I show it to people. I was in the studio and Diplo was showing me some of his videos and Katy Perry was there and I showed that to them and they were like "Man! What made you just go there?" It was just good to be…I don't know, I want to say this in the most honest way possible. It was good to just see people receiving of that and open to it without being completely judgmental. But at the same time, it was still hard for me to watch that. Even though I shot the video and helped with the treatment, it was just still hard for me to look at it. It's like 'Wow, that shit really happened,' you know what I mean?
Sure, I definitely understand. We've heard that a writer by the name of B.Slade wrote it or co-penned it with you. So is this something you wrote completely or…
Yeah, that's Anthony. He's actually one of my favorite vocalists, period. I grew up listening to him. When I started recording my album, there was a joke in the studio like, "Who's gonna be your vocal producer? Who in the world can vocally produce you?" I was like 'Unless y'all can get Toné in here, I'm just gonna vocal produce myself,' and I came in the studio one day and he was there. Aside from the vocal producing, he would give me ideas melodically. Even when we work together, it's like man it's crazy how similar our upbringings are in terms of coming up in the church and our families abusing us and stuff like that. So he came to me one day and said he had this idea for a song and it was called "6," but he wanted to see what I could do with it.
I know in the past when you've done other interviews, you've talked about your father in a very positive light. So I just wanted to clarify if the guy you were talking about in "6" is the same guy that you talk about being very supportive in helping you in your career as an artist.
The guy I talk about in "6" is my biological father. My stepfather is who kinda got me into music. I do understand how that can be confusing to people. Since he's always been so much like a father to me, I just never call him my stepfather. I feel like God puts somebody in your life to bring you into the world and God also puts somebody in your life to teach your certain things that you need to be prepared with to go on the journey he has set for you. Even me and my biological father, we're still cool. In "6" I wasn't completely like peeling him off, I was just being honest and transparent. He never was a deadbeat father who didn't want to participate in my life or nothing like that. He would look up the schools I went to and everything. My mom went through a phase where I was so similar to him in some ways that she didn't want me to grow up like him. So, she put a distance between him and I. He could've easily taken that and went and done him, but he would always look up what school I went to and bring me money. He really tried to be a father to me – speaking in terms of my biological father. He still wanted to be a good dad, but my mother as a woman, just couldn't forgive him for some of the things he'd done in my childhood.
Unfortunately, people only love the way they know how to love. So, maybe that was his way of showing you the love that he wasn't able to show you when you were younger.
I truly believe that.
So, let's talk about the new song, "Wicked". Peeped the video and I think it's really dope. Let's hear the story behind it.
That idea came from me being in the studio playing around. I was with this girl – well a couple of girls that I would be around – and they were always like, "Yeah, I'm a virgin. I'm saving it," and you're like well you're kinda throwing it at me so I don't know [laughs]. Like is this the same thing you told all the other guys to get what you want? With me, the type of guy I am, I'm one of the few guys that I know that's like, 'Yo, that's what you did, cool. As long as you ain't still participating in that foolery. If it's good, we can get past that." But most girls don't feel comfortable to open up about that early on so they put on this front that they're super innocent. And I'm just like 'Nah, I don't believe that' and that's the concept of "Wicked".
Your EP Drift is coming out soon. Touch on the difference between the music found on there opposed to the music that will be heard on your debut album, Songs About Melody.
Drift to me is something like an extension to Bijoux 22. The production is much more riskier. With '22,' we didn't know what that was going to be. I just got tired of people only hearing me on features and not really knowing who Elijah Blake was when the Ross song and The Game song was dropping. So we threw Bijoux 22 out and it turns out that people really appreciated it as a solid body of work. With Drift, I really want people to get into the mind frame of who I am as a person…a person behind the artistry. I was in a really dark place when I did that. I was upset with a lot of people. I was upset with myself. I was questioning a lot of decisions I'd made and I fully put that into the music. So, it has a more darker element where as in the album, people will really hear Elijah Blake in the more commercial aspect. That's what you're supposed to do with an album. You're supposed to sell the album. So, the radio songs and the shit for your car and the club joints are all on the album. Where as Drift is more true to me. If your really appreciate that type of artistry and the type of originality that I'm trying to portray on it, then you can spend your money and support me. It wasn't created for people to pick apart. All the rules that we're supposed to follow, Drift doesn't follow any of that.
We hear that the album is finished. Do you have a tentative drop date for both the EP and the album?
Yeah, the album has been finished. The album is coming definitely at the top of the year and the EP is coming this fall. We have a tentative date amongst the inner circle, but because of push backs, we just want to make sure everything is locked in before we give a drop date. But it's definitely coming around the fall.
Do you have a single that you're leading with for the album?
Yeah. I feel like my most commercial song thus far that I've written or been apart of is the lead single for the album. I can't wait to share that with people. It's for the club. It's something that people are gonna dance to in the clubs and it's something I can hear all in the car stereos. Every time I play it, it's always love for that one. So, I'm really excited for people to hear it. People always expect Elijah Blake to be so serious and really, I'm a big ass kid. I just wrote these angry ass songs because I was an angry person at that time. I'm definitely not as dark as most people like to think of me as [laughs].
So, can you tell us the name of the single or not yet?
Shit, I would love to, but I just don't want to get an email from Roc Nation in the morning like "What the hell you doin?" so I'ma just chill [laughs].
Fair enough [laughs]. Your single "Towers of Tokyo" was a favorite of ours earlier this year. What was the basis behind that?
Thank you. "Towers of Tokyo" was one of the songs that helped me get my deal. So many of my peers have these amazing songs, but because of timing it never comes out. Sometimes the song is great, but because it's one of the first songs that you did, people kinda start sleeping on it. I love that record and the direction of my album kinda started to change since me getting my record deal. I felt like this song needed to get set free and people enjoy it on their own terms. I just kinda wanted to put that out there for people to enjoy. That's one of the benefits of me being a creator of my own music. I just keep all of it 100 with my time like, 'Yo are we gonna use this or not?' No I.D. said something really powerful  – I don't wanna quote him wrong, but he said, "As creators of music or artists, we have a certain amount of songs that God puts in us to release into the universe before we leave this Earth. It's our job for those to be heard and for those songs to inspire somebody." That really spoke to me. I like to practice what I preach. When the direction of the songs changed, they were like it wasn't like it was a bad song. So, I said let me put it out there instead of it collecting dust.
Speaking of "collecting dust," what's going on with this rumored song with Kanye West and Bono? Is that ever going to come to light or is it just a rumor?
No, it's real [laughs]. I think Swizz is just having a fun time teasing it. I think he put up a snippet of it on YouTube one time. I did speak to him about it and he's like the song is so special and it means so much, that he feels like it's gotta be released at the right time. I don't know if there's something amazing that he's lining it up with or that he's waiting for, but I'm just as anxious for it to come out as everyone else is.
I know that you're working with Keyshia Cole on her new album. How is that going?
Yeah, that's my Ace Boon Coon [laughs]! It's amazing. I think a lot of the things in the music industry sees everybody like 'Oh, that's my brother, that's my sister,' but they don't really mean that shit. We become numb to how a brother or sister would really treat somebody. Keyshia to me is literally the closest thing to what that represents. She's so real and looks out for me. If an article comes out – like the Billboard article – before I could even see it, she posted it up on Instagram. She gives me advice on everything. She talked me through some of my personal struggles and I was there for her at a time where she was going through her divorce and everything with her marriage. For me with Keyshia, it's deeper than the music and that's that first time I really, really experienced that with one of my peers. The album sounds amazing and I'm excited for people to hear it. Her album is really one of the best and most solid body's of work that I've heard in a minute, actually.
Really?
Yeah. I think people are more thrown off by the singles, but I think she was having more fun in some of the shots. She was coming out of a divorce so everyone was expecting her to cry again and do the typical Keyshia Cole, but she was like let's just have a little fun. Let me put my feet up on somebody's couch and slap a bitch like Rick James. I think she was just having fun and some people perceive it as that's what this body of work will be, but her album is really, really good.
She's given us some great music in the past, so I don't doubt that this will be the same. Who else are you working with now and writing for?
Elijah Blake [laughs]. I've kinda given so much of me away that I just want to give to myself. It all started with me wanting to sing and tell my story, so now that platform is growing into its own thing. I kinda wanna give that my undivided attention. I can't lie though. Of course, if Usher hits me up – a couple of months ago I was in the studio with him working on the new album. If certain people call, I would definitely go in the studio and hash it out with them. But in terms of how I used to just be in the studio with any and everybody, I kinda…you have to prioritize. I feel like now I have fans and people who appreciate the music, I owe it to them to give 100%. If Usher and Keyshia and before Ri closes her album out, I'm gonna go in and do some stuff that can hopefully stick and make it to the tracklisting. Those are the projects I'm excited about and a few other people that I can't think of off the top of my head [laughs].
I did an interview with Verse Simmonds last month and one of the questions I asked him as a songwriter, is how does he know which songs to keep and which songs to give away. I want to pose that same question to you, being that you have an extensive catalog of people that you've written for and are working with Rihanna, Usher, and Keyshia Cole currently.
Well, that's really easy now because No I.D. from early on was like, "Man, with your music, you write from personal experiences. No one can ever take that from you."All of my songs that I did for myself and true stories that I've either gone through it or watched somebody go through it. It's been a minute since I've written a song and sent it to somebody like, 'Oh, you wanna do this song?' When I do go in the studio for Usher, it's usually with him there talking about what he wants to talk about. I kinda help him paint or add color to his canvas. Even with Keyshia, I'm helping her tell her story. When I go in the studio for Rihanna – whether she's there or she's not there – I'm writing with her in mind. I've made the writing process for my own self very sacred, so it's easy to do that now.
I know there's been a lot of talk on if Rihanna's about to release a new album or not. Is there anything that you can tell us about her upcoming album or stuff that you're working on for her?
One thing I know about Ri that Roc Nation always preaches is that she's always working. She stays working. Really, to my knowledge, even when the last album was done she was still in the studio cuttin' records. She's always gonna be in the studio cuttin' records. She'll never pass up a great song. I think that's why she's been so consistent and so great and always killing shit. I don't know when this album is coming out, I just know I want to be apart of it. When I hear a lot of talk about it, I just hit Jay [Brown] or talk to my rep at Roc Nation like, 'So, when can I get that studio time?' [laughs].
If you could have penned any song – past or present – for any artist, what would it have been and why?
"Purple Rain". I love that song. It's like my favorite song of all time. I just hope that in years to come, I can create something that makes people…yo when them chords come on or I hear, "I never meant to cause you any trouble"…when I hear that, I'm like this man is as great as can be! That song right there – "Purple Rain" for me, by far.
Right now, you're a big part of the progressive R&B community. What do you think about the current state of R&B?
I think with everything it's a fight. I just think it's sad that we have so many new R&B artists that are willing to push the boundaries and willing to be original, but people are hesitant on what they don't understand. You literally have a militia of brand new R&B artists that are new artists that are standing in front of a big ass boulder and are willing to push it over the edge. We're pushing it and it's teetering a little bit, but I feel like once it really starts to roll, then people are really gonna understand what it is that we're doing. I feel like we're on that cusp. I feel like it's a lot of new energy and a lot of new artists like me that are just saying that we don't wanna do the typical R&B. We wanna play with instruments and sounds, and I think we're right on the edge of a R&B overload that's about to happen.
I definitely agree. I think this new wave of R&B is something that we're not used to, but we're definitely embracing full on.
I think the people are open to it. I think the system and the label should support it a lot more.
Is there anyone you're looking forward to working with this next year?
At this point, I've kinda worked with everyone I'm a super big fan of. Everything now is just seeing what God has in store for me. He always seems to surprise and amaze me, so I'm super excited about that.
Who are you looking forward to seeing flourish this next year?
Ah man…Elijah Blake [laughs]. Not to sound narcissistic, but I'm just ready for the overflow to happen. When we did 'Bijoux' it was a spike in everything and then we were kinda like what are we gonna do next? Then we did "Towers of Tokyo" and then I did the tour and it was like, 'Cool! It's about to happen!' It's just like I'm just ready for now. The energy is good, it's a new team…it's just everything. I think everybody's in sync and I'm just excited about that. You know who I am fuckin' with tho? FKA Twigs – I love her. If she reads this, tell her to get at me for us to collaborate [laughs].
-Interview by Ni'Kesia Pannell
For more info follow @SirElijahBlake.