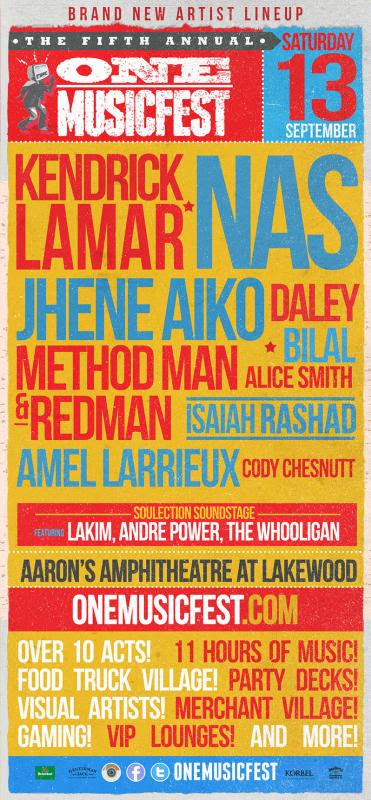 While summer may almost be over, the season for festivals is nowhere near! For as the month of September will bring changes in the weather, it will also bring with it a plethora of festivals for fans to enjoy!
One festival in particular that will be blowing fans away is Atlanta's fifth annual ONE Musicfest! The festival, whose tagline is "Unity through music," will host over 10 of today's hottest and most respected acts all under one roof.
See more after the jump!
Set to take place on Saturday, September 13, the one-day fun fest will hold its showcase at Aaron's Amphitheater at Lakewood and if it's anything like its previous installments, will be one hell of a day! Calling on flower child Jhené Aiko and soulful crooner Daley to add to the already awesome line-up, this year's ONE Musicfest will certainly be one to remember. Other acts to be in attendance for the incredible day are Nas, Kendrick Lamar, Method Man & Redman, Bilal, Amel Larrieux and more. 
In other ONE Musicfest news, the team held its first annual Music Culture Crawl in Atlanta, GA. Powered by UberATL, the Crawl took lucky media members on a tour through Atlanta's musical history. Stopping first at Midtown's Smithe's Old Bar, media outlets listened attentively as they received the history of the bar and those who have graced the stage. 
Media guests also received the opportunity to stop by the legendary Stankonia Recordings and were able to receive a history lesson on the studio such as classic records recorded there as well as previous owners, including R&B crooner Bobby Brown! Attendees were also privileged to be the first to tour the never before seen Atlantic Records and DJ Drama collaboration studio. 
Certainly a privilege to be able to bask in Atlanta's rich musical history, ThisIsRnB was able to snag a few fun R&B facts for fans. You can head over to our Instagram and check which R&B crooner recorded their latest album in Patchwerk Studios, who made hits in Outkast's studio, and more. For more information/ticket purchases to this years ONE Musicfest, visit www.onemusicfest.com! 
Check out a few of the pictures of our tour below! 
[Photos via Jerry White]
A special thank you to the ONE Musicfest Team for inviting us to tour the city with them as well as Heineken and Jack Daniels Honey for keeping us properly nourished!