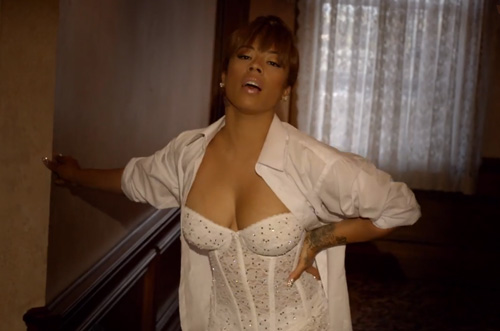 Keyshia Cole is a single mother now, and she is taking care of herself, anyway she has to! The R&B songstress has premiered the music video for her brand new DJ Mustard-produced single, "She."
Set in a plush hotel, Keyshia shows off her assets as she sexes up the screen in white lingerie and an extravagant gold two piece. Getting playful on her bed, a mysterious suitor watches from the chair, but it's not what it may seem.
Unashamed to express her actions of self love Keyshia handles her own needs. "It's one of them nights, fingers up and down my legs / Felt like mine, getting high off my own supply," she coos.
Currently traveling across North America on her "Point of No Return Tour," the singer will be performing in cities such as Washington DC, Atlanta, New Orleans, Dallas, L.A. and more this month.
Check out the sexy new video below!