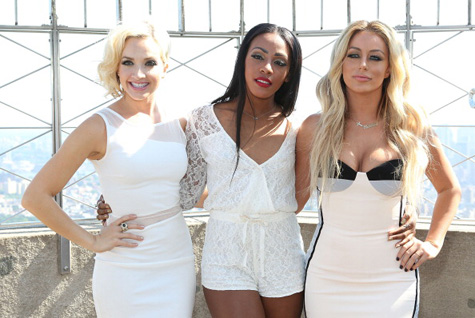 WTF!
Danity Kane have broken up, again. The platinum trio, consisting of Aubrey O'Day, Dawn Richard, and Shannon Bex, have announced their disbandment following an act of physical abuse during a group meeting.
Aubrey claims that Dawn punched her in the back of the head without being provoked during a business meeting on Monday.
After the story surfaced on TMZ, the group released a video to dispel the beef rumors. Aubrey and Shannon were both seen wishing Dawn a happy birthday. But it looks like they weren't able to salvage things.
Aubrey and Shannon penned a lengthy letter to their fans, which can be read in full here, confirming the reports and detailing the events that led to the breakup.
"Sadness does not even remotely begin to describe what I feel right now," said Aubrey. "Ultimately, as a woman who has spent her entire career standing up for the underdog and right over wrong, I can no longer pretend that she is willing to do what it takes to protect the power of the Danity Kane name."
Shannon expressed sadness and remorse to DK's supporters. "My desire is to genuinely apologize to everyone who has poured their time, heart and energy into us. So many lives have been affected by this chain of events," she said.
She also called out Dawn personally and alluded to past problems. "As you can tell, I have been avoiding saying names. However, this was my personal reaction to escalating events that led up to my overall frustrations with Dawn…months ago."
Dawn tweeted, "Wow. Huge let down to the fans," before deleting the message.
The group announced their reunion almost one year ago at the MTV VMAs. They went on tour together earlier this year and released the Tyga-assisted single "Lemonade."
In June, Aundrea Fimbres left the group to focus on her family. Fifth member D. Woods did not return to the group.
This is not the first time Danity Kane has called it quits. In 2009, Diddy disbanded them after the release of their second album Welcome to the Dollhouse.
Aubrey, Dawn, and Shannon had been recording a new album, but it's unclear if it will ever see a release.
[via Rap-Up]