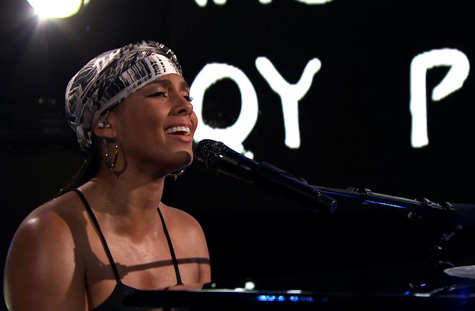 R&B songstress Alicia Keys is moving quickly when it comes to the promotion of her powerful single, "We Are Here". While the teaser was just released over the weekend, yesterday saw the unveiling of not only the full single, but its accompanying video as well.
Adding to the excitement of its release, A. Keys took to 'Jimmy Fallon' last night to deliver her first performance of the empowering anthem. Seated at a peace-sign infused piano, the pregnant star sang out for the millions of awe filled viewers while the words "freedom," "education," "change," and "love" flashed across the screen behind her.
Backed by The Roots' ?uestlove on the drums, the awesome performance showed the compassion that filled every lyric that the star belted out.
In addition to her performance, Alicia took part in The Tonight Show's online series "How I Wrote That Song," and she explained where the concept of her empowering new song came from.
Check out both moments after the jump!