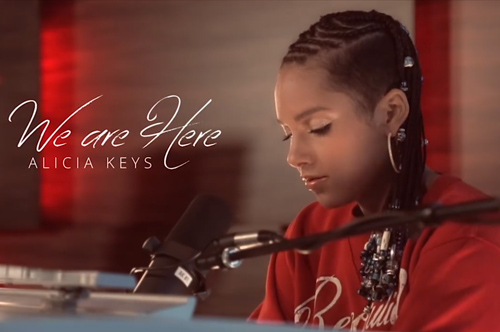 While it was only yesterday that Alicia Keys posted a teaser for her new single, "We Are Here,"the singer/songwriter has wasted no time delivering a performance visual of the full song.
Serving as a unity anthem for all of the negativity going on in the world, including places like Chicago, Gaza, Israel and Nigeria, the glowing songstress is on a mission to save the nation. Singing out, "Let's talk about living / had enough of dying," Alicia spreads a great message as the New York City skyline serves as her backdrop.
"The day I wrote this song, I was sitting in a circle of people of all ages and we were asked, 'Why are you here? Why am I here??'" said Alicia. "This really hit me on a deep level. I realized no one had ever asked me that question before. As I prepare to give birth to a new child, I can't help and think about the world I'm bringing my baby into. No matter where we come from, when we see the state of the world today, we can all feel the growing frustration and desire to make a difference. And we all have a voice—we just need to know how to make it heard."
Take a look at A. Keys and her baby bump set the world on fire below and don't forget to tune into The Tonight Show Starring Jimmy Fallon to see her perform it for the first time tonight!