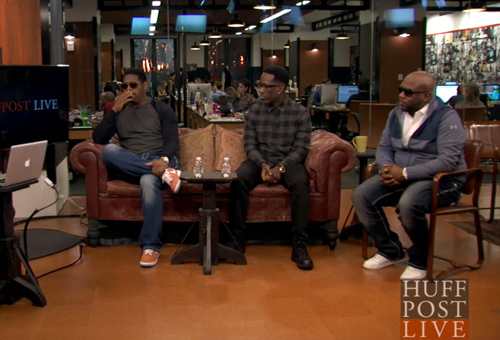 With their brand new album Collide in stores, Boyz II Men have been hitting the promo circuit and this week they sat for an interview with HuffPost Live. One of the main topics the trio discussed was the true story behind why the group, which was a foursome throughout the '90s, became a trio starting in 2003. While reports said the fourth member Michael McCary left the group due to severe scoliosis, the remaining members said there was much more happening behind the scenes.
"Mike was kind of always the odd guy in a sense," explained Shawn. "Obviously he was a freak of nature vocally. There's nobody that we've encountered outside of Melvin [Franklin] from The Temptations that actually spoke the way that he sang. Like, he was a true bass. You got guys that act like basses and sing like basses but aren't basses."
Nathan Morris said McCary didn't like rehearsals or any of the nitty gritty stuff that comes along with being a top music act. "It seems like he kind of gave up when things didn't go well."
Officially, McCary has said a severe case of scoliosis was his reason for leaving the group, though the remaining members say that the back condition was only a fraction of his reason for departure. McCary said in 2012 that he wanted to return to the group, but he balked at signing a contract that would protect the other three should McCary bolt again.
"Because he left us hanging so many times, we had to cover what we had been doing the last nine years he wasn't there," Nate said. "You can't just run out one day and don't show up. We had to have some sort of contractual agreement to make sure he was going to be there for everything."
Nate even told a story where McCary seemed like he was back on board, then later rescinded his support because he wouldn't be a "full" fourth member. When he called the group to tell his frustrations, they basically hung up on him and continued making their album.
Nonetheless, the trio added that McCary's spot will always be open for a return should he want to.
"There's always a chance. Mike is … we experienced that with Mike, so his slot will always be open for him. But he has to go about things correctly for it to happen," shared Shawn.
Additionally they discussed their early image, which was very preppy for the time, and how that affected certain fans views of them.
"To our peers in the music experience, we didn't encompass the 'black experience' because of what we were wearing and things of that nature," said Shawn "At the end of the day, we felt like we represented not only our race, but our city, Philadelphia. We knew it would open doors for artists and groups that would come after us. We always kept that in mind, regardless of whether black folks looked at us as cool or not."
Check out the interview clips below:
Watch the full interview here.