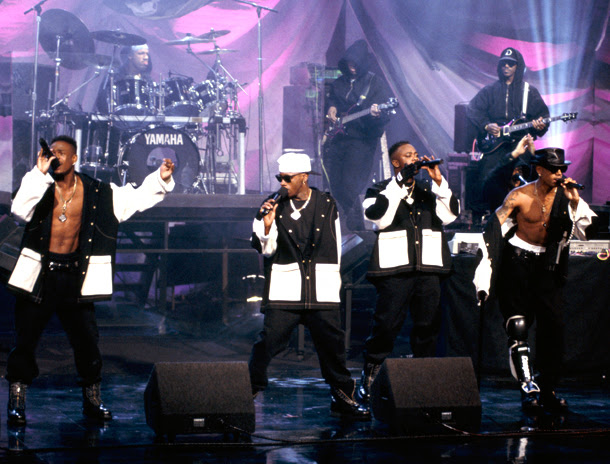 Some fainted, some jumped for joy, some just looked puzzled, when CENTRIC announced one of their big surprises for this years Soul Train Awards would be the return of Jodeci. Not only will the iconic R&B quartet be taking the stage, but they will also be debuting their first new single in 18 years!
With many fans anxious to hear what it sounds like, Jodeci member Davlin "Mr. Dalvin" DeGrate is spilling the beans just a little in a new interview with Yahoo! Music.
"Sometimes it's just the wrong timing," said Mr. Dalvin explaining why the group has not released any new music since 1996's "Get on Up."
"You can fall into the trap that a lot of artists fall into by just putting records out there because fans are excited and start tarnishing your legacy and body of work you've created. People waited all these years for some quality music – not just throwing music out there."
After an 18-year hiatus, the timing must finally be right for the North Carolina quartet that changed the look and sound of popular urban music with three albums and hits "Forever My Lady," "Come and Talk to Me" and "Feenin'," to bless its audience with a new track and forthcoming album.
According to Yahoo! "Nobody Wins"' chorus exhibits Jodeci's signature lush harmonies and the soulful music bed takes a more mature turn for the group. The ballad's synthesizer chords and kick drums draw refreshing, old-school R&B comparisons as the lyrics call for peace in relationships. They sing, "Nobody wins when we fight, fuss, and argue," and Atlanta rapper B.o.B contributes the song's verses.
Read more at Yahoo! Music