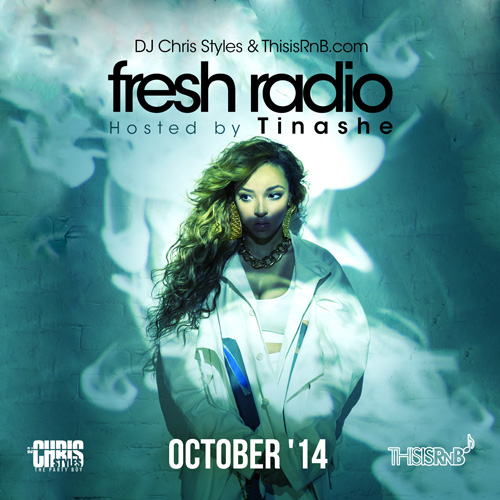 It's about that time again! October is here and we are bringing you this month's brand new 'Fresh Radio' mixtape with DJ Chris Styles of Sirius XM's 'The Heat,' and hosted by rising R&B star Tinashe!
The 60 minute live mix features some of the hottest R&B singles climbing the charts and rockin the clubs right now, from the likes of Usher, Ne-Yo, Jhené Aiko, Chris Brown and many more. Plus exclusive interlude breaks from Tinashe, who will release her debut album Aquarius on Oct. 7 via RCA Records.
Follow the jump to stream and download the new mix now!!
#FreshRadio
Tracklist:
01. Tinashe Intro
02. Kid Ink feat. Usher & Tinashe – Body Language
03. Jamie Foxx feat. 2 Chainz – Party Ain't a Party
04. Jae Murphy feat. Eric Bellinger, The Game & Problem – You Playin
05. Ariana Grande feat. The Weeknd – Love Me Harder
06. Tinashe Break
07. Tinashe – 2 On
08. Tinashe – Feels Like Vegas
09. Chris Brown & Trey Songz – Tuesday (Remix)
10. Kevin Ross feat. Ne-Yo – Overrated
11. Tinashe Break
12. Rae Sremmurd – No Type
13. Jhene Aiko – The Pressure
14. Sam Smith feat. A$AP Rocky – I'm Not The Only One (Remix)
15. Tinashe – Checks In
16. Tinashe Break
17. Tinashe feat. A$AP Rocky – Pretend
18. Eric Bellinger feat. The Game – Awkward
19. Luke James – I Want You
20. Tinashe – Bet
21. Tinashe Break
22. Partynextdoor feat. Drake – Recognize
23. Chris Brown feat. Trey Songz – Songs on 12 Play
24. Elijah Blake – Strange Fruit
25. Jeremih – Nobody But U
26. Tinashe – In The Meantime
27. Tinashe Outro
DL: DJ Chris Styles & ThisisRnB – 'Fresh Radio' (October '14) (Hosted by Tinashe)