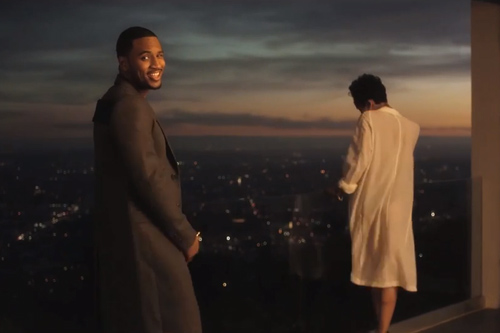 Trigga Season continues…
Trey Songz couldn't let Valentine's Day go by without giving his fans a surprise gift. The R&B heartthrob, who kicked off his "Between the Sheets Tour" with Chris Brown last week, premieres the sexy video for his new single "Slow Motion."
In the Dre Films-directed clip, Trey picks his girl up and heads to the club, but has a change of heart and decides to take her back to the crib instead. Touchin and lovin ensues as he gets her out her clothes, and makes love by the fireplace and on the balcony.
He strips shirtless and shows off his chiseled assets, while his model co-star Tanaya Henry serves plenty of eye candy for the fellas.
"Slow Motion" can be found on an upcoming re-release of Trey's 2014 album Trigga called Trigga Reloaded, which he revealed drops April 14.
Keep the romance going with the new video below!
Also, check out this hot new remix of "Slow Motion" by Grammy nominated producer Shomari "Shonuff" Wilson.