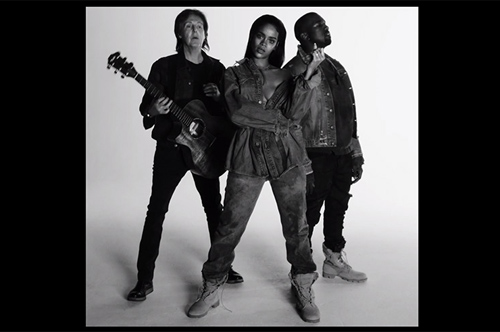 Just over a week ago, Rihanna surprised everyone with the stripped-down acoustic sound of her brand new comeback single, "FourFiveSeconds" featuring Kanye West and Paul McCartney. Now, the Pop megastar surprises once again with the black-and-white, Instagram frame style music video, directed by Inez and Vinoodh.
A tad folky, country, and all American, the acoustic song was written by the talented Kirby Lauryen (who we featured back in 2012), and marks the first single from RiRi's anticipated eighth studio album.
Dressed in a vintage Sean John denim jacket (courtesy of Kanye), she duets with Ye while Paul plays the acoustic backdrop.
"Kanye came up with the idea of doing just some real street, denim, all-American-type look," said Rihanna. "Denim never goes out of style; it's classic, it's iconic, just like the fucking Beatles."
The trio are expected to perform "FourFiveSeconds" live for the first time at the 57th Annual Grammy Awards on Sunday!
Check out their new video below: