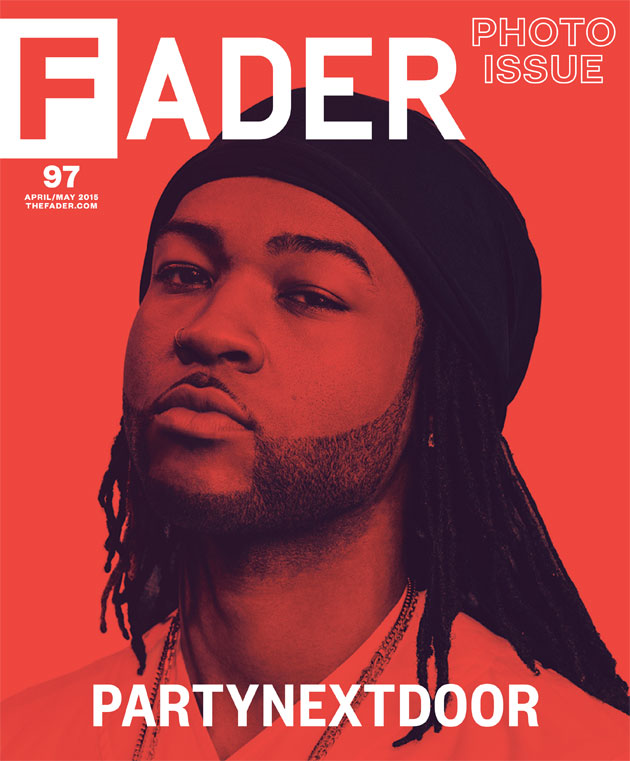 If you're a PARTYNEXTDOOR fan, you've probably been very curious about the very private artist, since he has yet to open up about himself or his music since he emerged on the scene in 2013. Today (April 21), that has changed as the Canadian singer/rapper offers The FADER magazine his very first interview and lands the cover of their April/May issue.
During the conversation, PND provides a candid look inside his creative process. The singer, born Jahron Anthony Brathwaite, admits his songwriting skills were stalled at one point due to over-thinking, but weed helped cure that.
Since being introduced by Drake and signing with his OVO Sound label, he hasn't been able to shake The Weeknd comparisons. He addresses those comments and makes it clear that his colorful outlook on life makes him different.
Check out highlights from his interview below:

On how weed changed his writing style:
"I think too much, which is a blessing and a curse. I was so against smoking weed cause I always wanted to be in control, but my friend convinced me to smoke weed one day. And as soon as I smoked weed, that's when I started writing like that."
On staying away from the public eye:
"I would never call myself mysterious. The word I use is 'private. I'm not hiding from pictures. When you see me, I'll say wassup. I just don't wanna live in this fantasy where I act like everybody cares, and then I look like a jackass with someone filming me in the airport."
On being compared to The Weeknd:
"People throw that [Weeknd comparison] over me because I came at a time where people assumed I was there to fill a void. A lot of things that came out of Toronto were darker at the time. But me? I'm all about colors. I'll flip samples where one's a completely dark song and the next one is a complete sexual song. People think my whole thing is a dark thing, but I don't."
On refusing to force the creative process:
"I feel like I have a different perspective: just skip the bullsh*t. But I don't feel like I'm disrespectful. Do I say disrespectful stuff in my music? I'm not disrespectful at all, but [my lyrics] are things I say, or have said. I can't just go in the studio and make music. I'll make a whole bunch of beats whenever, but unless I'm living through something or have a female in mind, or have a conversation in my phone I could scroll through, I'm not making music. I don't reach for things, like, 'Oh my god, let me think of the wildest thing to say tonight.'"
On using Auto-Tune:
"The first time I heard Auto-Tune, it was not via T-Pain. It was via people I listened to with my cousins, cultural sh*t like Vybz Kartel and Mavado, who would scream and belt the hardest sh*t out."
On being connected to his music:
"I make 99 percent of my music sitting down, in boxers, when I'm comfortable in my computer chair. Cause I do everything myself. I hold my mic [when I record]. I held my mic for every song I released. I just wanna feel like I pick it up and I just talk. I say what I have to say."
The new issue hits newsstands May 12, but you can read the full interview here.