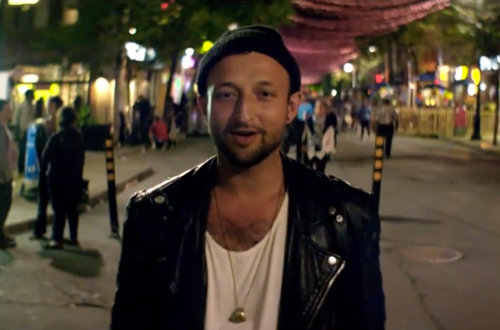 Last month we were very impressed with the debut single, "Life Goes On," by emerging Canadian crooner David Morin.  Now, the singer/songwriter has premiered the feel-good music video.
The uplifting song is a strong representation of Morin and his music. His grooves are smooth, yet his lyrics address protest: politics, justice, and inspiring social change.
"The video for 'Life Goes On' is really about the boy; a young Cree member navigating his hometown of Kahnawake," states Morin. "I'm actually a quarter Metis, but that's the subtle link between the two of us. At the start of the video, he's visibly concerned, but he explores, he dances, he lights fireworks – he sheds the weight of whatever was holding him down by using his imagination and tackling the experiences his immediate world has to offer."
He continues, "That's what 'Life Goes On' is about; yeah, it's hard sometimes, but you can only count on yourself to discover all the things life has to offer. So, even though the video only shows the contrast between my experience and the boy's, it's the universal message of positivity through adversity that I think translates to the viewer, the listener, to anyone."
All Def Digital, brought to you by Russell Simmons, is hosting the video as part of "The Signal" series highlighting up-and-coming artists. Recently, the song was chosen as "Single of the Week" on ADD52, the company's music discovery platform created by Simmons and Steve Rifkind in partnership with Universal Music Group and Samsung.
Check out the video below!