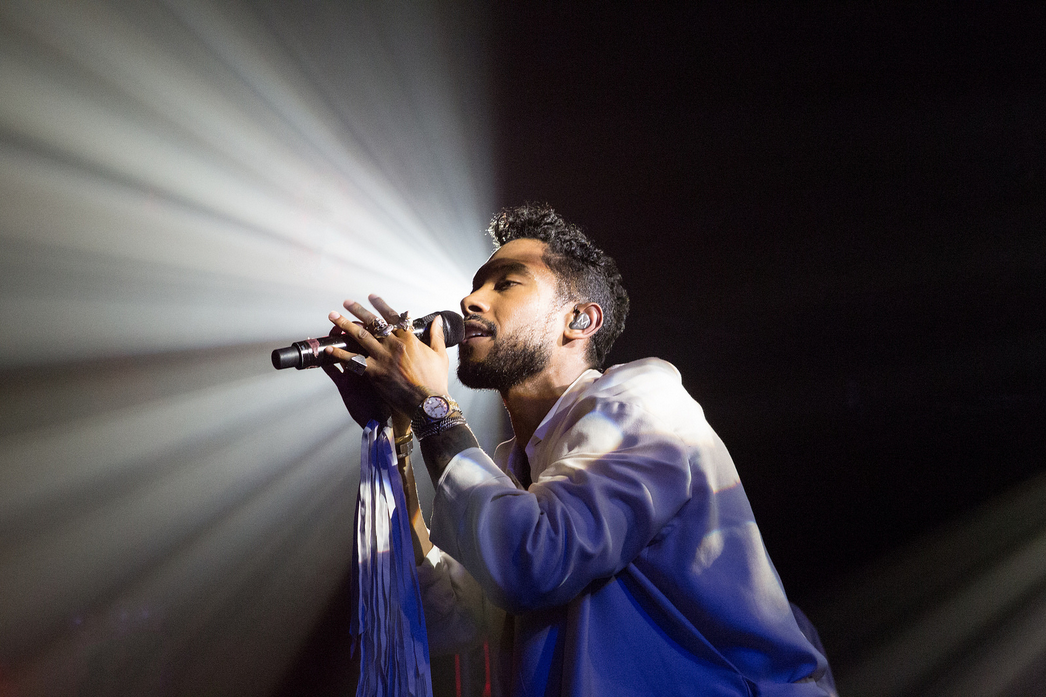 Miguel is not a R&B artist, he is a full-fledged Rock Star… If this wasn't abundantly clear before, the opening whales of his bands guitars made it evident upon his first step on stage Tuesday night at Le Poisson Rouge in New York City. In conjunction with the release of his well-anticipated third studio album Wildheart, the Grammy Award winning artist teamed up with NPR Music for a special performance as part of their "First Listen Live" series.
Before heading out on tour this summer, the Los Angeles native gave NYC fans an early preview of his upcoming summer tour, performing songs from Wildheart, and hits from his acclaimed catalog.
"If you got a drink right now I suggest you down that muthafucka," Miguel instructed the packed room of fans, label reps and press. His stadium ready light show only set the tone of soulful rock god even more as he delve in the opening song "The Thrill" blending it perfectly with his unexpected fan favorite single "Simple Things," from the soundtrack to HBO's Girls.

The seamless, and seductive transitions continued into his breakout single "Sure Thing," off his debut album All I Want Is You, which he segued with the first surprise of his set, a trippy remake of Rae Sremmurd's "No Type" led by spacy snares.
At this point Miguel took a break to explain some of his feelings and the inspiration that went into the making of the Wildheart album. Sharing with the crowd that every album is a snapshot of his life, a "sonic diary," he proclaimed, "fuck the programming, fuck normality, because normality is a farce man … in the end we all gotta face the sun."  The perfect set up to lead into a trio of tracks off the new album, including choreographed raging on "face the sun," to the rock-heavy "…goingtohell," and ode to his hometown "Hollywood Dreams."
Shuttering reverb brought in the classic "Girls Like You," and sultry "Pussy Is Mine," but the singer's latest single "Coffee" was a definite highlight, as a mini sea of camera phones rose to capture the performance.
The evening then took a trip back in time as the '80s inspired "waves" turned the venue into a dance party, and we were quickly brought to classic '90s hip hop as they used 2Pac's "I Get Around" to help bid farewell to his band member and keyboardist Brook D'Leau from L.A. group J Davey. If you ever caught any of Miguel's past performances he swiftly uses a line in the classic Pac record to transition into his summer 2011 single "Quickie."
Following an extra loud encore request Miguel returned to appease the crowd with a mash-up cover of Kendrick Lamar's "Swimming Pools (Drank)" mixed with "How Many Drinks."
Having the crowd on full turn up mode, he brought the vibe back down to explain his purpose with this album once again. "I put this album out this time with so much more purpose than ever before." Pausing from the emotional moment, Miguel shared that his purpose was to "…just give."
"Stay wild hearted fuck programming fuck normality," he said, before the lights turned red and he closed with nothing else but "Adorn," having the crowd sway from left to right at his command.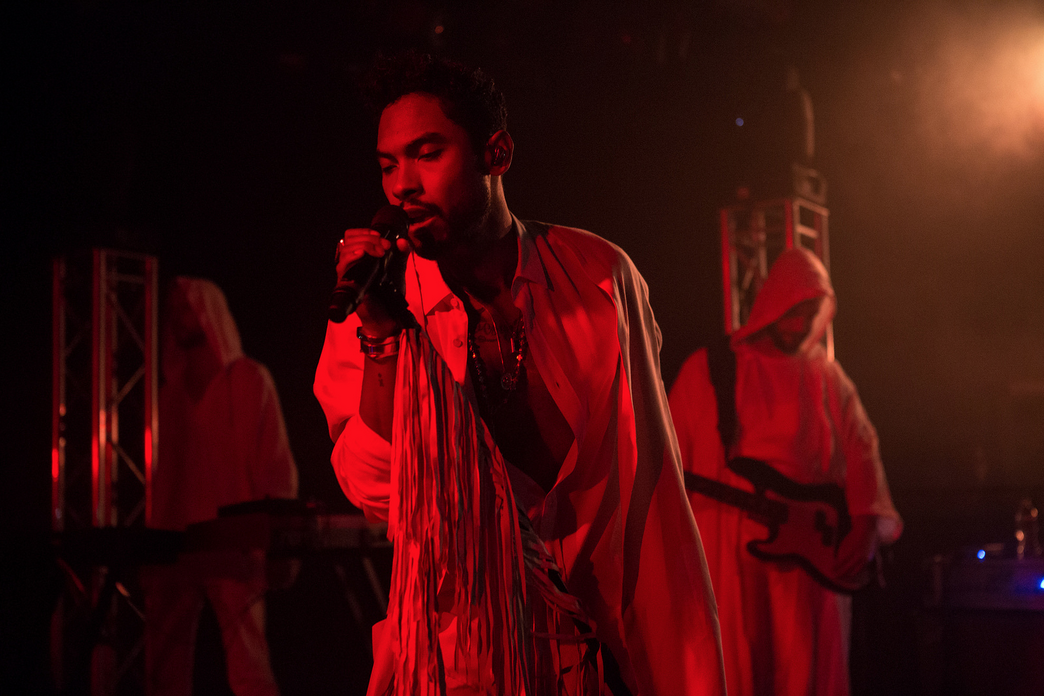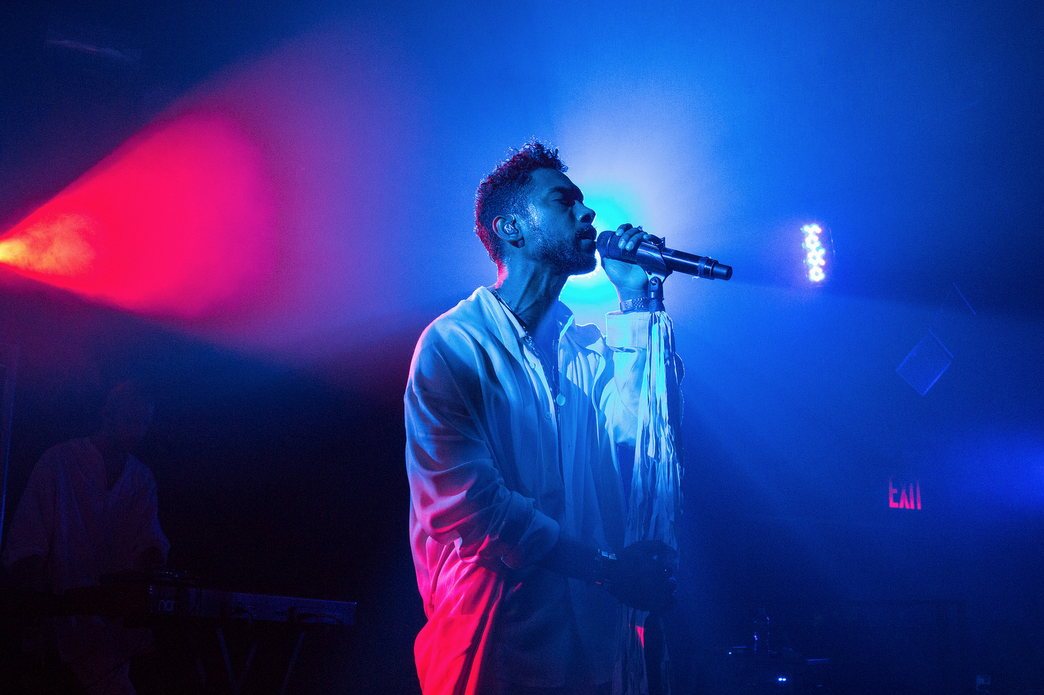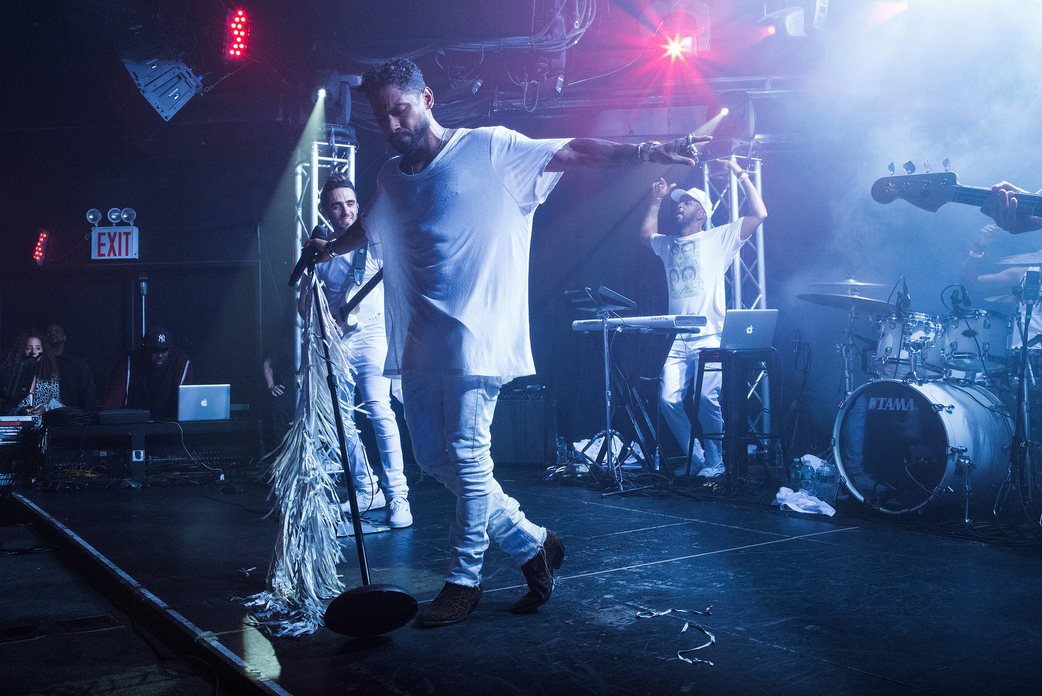 NPR has even been nice enough to share the full show for your viewing pleasure! WATCH IT HERE.
(Photos by Ebru Yildiz for NPR)