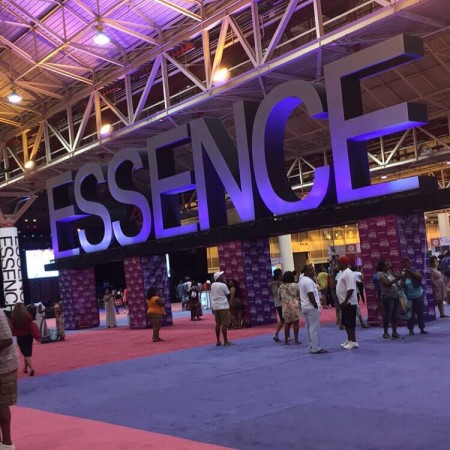 It's that time again!
Yes, while everyone was out firing off fireworks and enjoying BBQ and family time, we were bracing one of the largest R&B festivals of the summer known as Essence Fest in New Orleans. With record breaking numbers of nearly 500,000 attendees pouring in to see over 80 performing artists and more than 120 speakers, authors, leaders, and celebrities, we can confidently confirm that Essence will always have July on lock in our opinion.
Although this was not our first year covering the event as a site, it was my first year covering it as Assistant Editor and I must say, it was absolutely incredible! To be able to see so many positive events come together behind the scenes and so many people piled in one place to see some of their favorites (and mine too) take the stage at one time was a great feeling. And not to mention, seeing so many positive black people in one building was a feeling like none other.
Now, I've been to New Orleans before for Mardi Gras back during my college days, but this was definitely a different experience. While I've covered many events on behalf of ThisIsRnB, this was my first time covering an event this large without our Editor close by. That being said, I was a little nervous, but mostly because I'm naturally a scary  person lol.
While we are clearly an R&B site, I decided to take this trip (and every future event I cover) and let our readers experience as much of what we're doing as possible. So, for Essence Fest, food was definitely included because you can't go to New Orleans without taking in as much of the culture as you can. In addition, of course you'll be able to get the details on each one of my nights at the biggest festival of the summer and thoughts on how it was executed.
So, without further adieu, read on for our recap of Essence Fest 2015!
Day 1: Thursday, July 2
To kick-off the big weekend, fans flooded the Mercedes-Benz Superdome to watch the talented Lecrae open up the night. Performing some fan favorites such as "All I Need Is You," the famed Houston rapper was one hell of an opening act.
Following Lecrae was none other than Mr. Steal Your Girl himself, Trey Songz, who got the party rockin' by performing some of his top hits before comedian Kevin Hart took the stage for his What Now? tour.
Although it was only the first night, the crowd was packed with people dancing, singing, and laughing all night long. A great way to jump start the event, night one ended on a very high note.
Day 2: Friday, July 3
Day 2 was really where the fun began. After beginning the day with breakfast from Surrey's (shrimp and grits to be exact), we headed over to the Convention Center to catch a live performance from Melanie Fiona brought to fans by Verizon Live. Similar to her tour stop in Atlanta in May, the incredible songstress got the crowd amped up as she filled the building with her strong vocals.
That evening, back at the Superdome, we hit the press room with Keke Palmer, Adrian Marcel, Avery Sunshine, Goapele, the lengendary Doug E. Fresh (who asked our camera man and myself to jump in his selfie for the Essence Fest Twitter account) and Slick Rick, Kem, Nico and Vinz, Lalah Hathaway, Kindred The Family Soul, as well as many more while Charlie Wilson took the crowd to church during his performance on the main stage. India Arie, who was the opening mainstage act, premiered a new track titled "He's Got The Magic" which fell in line with her traditional appreciation for black men.
With the majority of the crowd dressed in all white and appropriately wearing what seemed like their Sunday's best, Friday's line-up had us falling in love with R&B and its soulful offerings all over again.
Day 3: Saturday, July 4
An amazing day, to say the least! Hitting The Ruby Slipper for some authentic French toast and applewood bacon (which I definitely recommend) was undeniably the precursor for a great day because to our surprise, Usher hit the Ford booth for the SiriusXM "Heart & Soul" live broadcast at the Convention Center. Sporting a white shirt reading " HAVE WE TRULY ACHIEVED OUR INDEPENDENCE?" on the front with the date of "JUNETEENTH 2016" on its back, the famed singer came out to rev the patrons up for his closing performance on the main stage of the Superdome that night. Also stopping by the Heart & Soul broadcast were Eric Roberson, Uncle Charlie – who gave the crowd a piece of his testimony and promoted his new book – Elle Varner, and Elijah Blake.
Now this night had to be the most poppin' of them all! From Sevyn Streeter, Bilal, Raheem DeVaughn, and Elle Varner holding down the Super Lounges to Missy Elliott taking us back, night three was one to definitely be remembered! Getting everyone out of their seats with every track she performed, Missy surely shut the stage down with her inaugural Essence Fest appearance. Unfortunately though, her set was shut down before it was complete due to her going over her performance time and it happened RIGHT when she brought out Jazmine Sullivan and was prepping to bring Monica out too! DANG! Prior to her shutting it down, ex-lovers Common and Erykah Badu opened up the show with their own separate sets filled with memorable moments.
Closing out the night was Usher, who always puts on a great show. Sporting a black leather jacket which read the same as his shirt from earlier in the day, the talented superstar slid across the stage and took the crowd back to the '90s while channeling his younger self with tracks from his earlier albums. Adding in a little booty shaking from his dancers and booty tapping from himself, you got an epic stage performance to end "Independence" Day from the main man of the evening.
Day 4: Sunday, July 5
For breakfast, we opted to take a recommendation from local residents and hit Daisy Dukes Restaurant. Ordering traditional breakfast style items, the small and intimate spot offered a filling meal to get us started for the day. We opted to skip the Convention Center for the last day and hit the Eiffel Society Day Party with DJ Mannie Fresh on the 1's and 2's. A legend in his city and in the rap game for how he helped shape Cash Money Records in the '90s and early '00s, Mannie – without a doubt – had the place SWANGIN'! Ending our day with chicken and waffles from Copeland's Cheesecake Bistro, we were ready to brace both the press room and Superdome for the closing night.
Before the final day, I thought I was given some of the best performance ever. That was UNTIL I saw Sunday's closing night line-up show up and show OUT! With stellar performances from Floetry and Marsha Ambrosius by herself, the night started off on an incredibly high note. Taking the crowd to ecstasy and back, the duo gave one hell of a welcome back performance for the audience to bask in. In the midst of Floetry holding down the mainstage, Teedra Moses, Andra Day, Omarion, Eric Roberson, Tweet, Lianne La Havas and more kept the Super Lounges alive and rockin' for those who were interested in a more intimate setting.
Now, while I am truly a fan of Floetry and all they have to offer, nothing compared to Mary J. Blige's heartfelt set that night! Let me say this again…NOTHING is like seeing MJB in full action! When you can make the ENTIRE building stop just for you and have EVERYONE singing along to EVERY song during your set, you've got to know you're truly one of the GOATs.
I know Kendrick Lamar closed the show (and did a damn good job at that), but I was shut down after Mary left the stage. There were people in real life tears while she was on that stage! Not to mention, she brought out the infamous Method Man to perform their classic '90s hit, "I'll Be There For You (You're All I Need To Get By"! If that's not enough to get you all excited, she definitely did the Mary dance and hopped around like she wasn't wearing 6 inch heels on the stage as a 44-year-old woman. You know, I've always been a fan of Mary, but you don't realize how much of a fan you really are until you see her do her thing on the big stage. Go 'head Mary!
With each night topping the previous, I have to admit that my experience as a first time Essence Fest participant was way more than I expected. While I knew I was going to have a good time, it can definitely be overwhelming with so many of your favorites performing under one room.
My advice? GO TO ESSENCE. At least once in your life. Even if you don't nab tickets or have access to press passes like we do, GO. There are an increasingly crazy amount of events to attend throughout the day that are either free or low in cost. In order to avoid making our post extra long, I left out a large amount of events that we stopped by that weren't music related. But, I truly encourage you and your friends to book your rooms and flights as soon as possible because I can assure you that next year will be…what is it you young kids say nowadays – lit? Yeah, all of that!
Be be sure to check back soon for our interviews with some of your favorite artists! And, make sure you follow us on Instagram and Periscope for the exclusive behind-the-scenes footage for our next event!