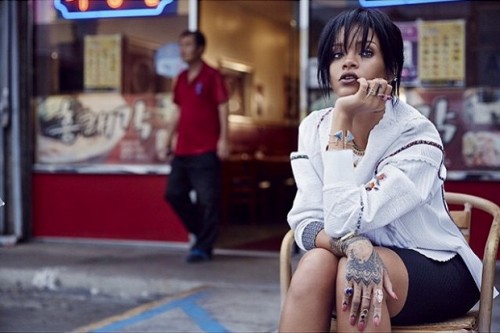 The Rihanna Navy is strong!
Today, the Recording Industry Association of America (RIAA) announced that Rihanna has surpassed more than 100 million Gold & Platinum song certifications. She now has the most Digital Single Awards and is the first and only artist to surpass RIAA's 100 million cumulative singles award threshold.

Rihanna also claims 48 million new RIAA Digital Single Certifications, which count download sales and on-demand streams in the United States.
"Gold & Platinum is the industry's premier way to celebrate achievement in the marketplace," said Cary Sherman, Chairman & CEO, RIAA. "We've given awards to artists for nearly 60 years, but it's rare that we have the opportunity to recognize a milestone like the one Rihanna has reached. Congratulations to Rihanna! She has not only surpassed RIAA's one-hundred million mark, but also is the first artist to do so. It's an historic feat and a testament to an extraordinary career."
Rihanna's song certifications span 37 titles released during the past decade, and include a 9X multi-Platinum award for "We Found Love," 6X multi-Platinums for "Stay," "What's My Name" and "Only Girl (In the World)," plus a 2X multi-Platinum for new song "FourFiveSeconds," a Platinum for "Bitch Better Have My Money," and many more.