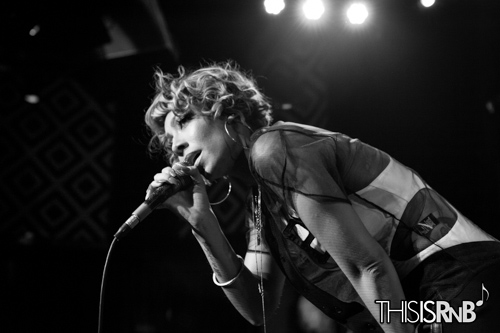 It may be 2015 but Bridget Kelly celebrated like she was 17 again on Thursday night at SOB's in New York City. Returning to one of her favorite hometown venues for the first show in promotion of her brand new EP 'Summer of 17,' the Chelsea native brought the city out and packed the house!
Billed as 'Bridget Kelly & Friends,' it was a unique and entertaining show for all in attendance. Warming the crowd up with fan favorites from her past projects and cuts from her latest, Bridget brought out her longtime friend and rising singer/songwriter Ro James halfway through her set, and he performed his breakout single "Pledge Allegiance" along with a preview of a new song off his anticipated debut album.
A little later BK called young RCA signee Jordan Bratton to the stage and they performed their duet song "You," while Jordan stayed on stage giving a high energy performance of his 'YOUTH' EP song "Victoria."
Next up was none other than Mack Wilds, who of course was there to perform their hot new collabo "Act Like That," which had the building grooving to its summery throwback vibes. But Mack couldn't leave the stage after only a feature, so he hit the crowd with his rendition of Musiq Soulchild's classic single "Just Friends."
Bridget brought and left her all on the stage, it was a night to remember for her fans, and she ended the show with "Special Delivery," leaving everyone wanting just a little more.
Check out our exclusive photos below:
(Photos by Michael Mathis | @mrichardphoto)