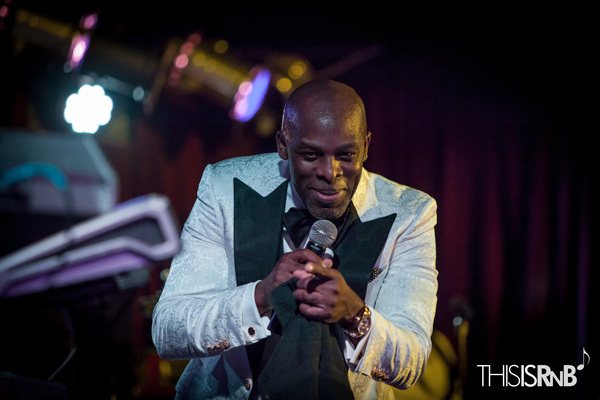 JOE is the man, still, after 22 years in music, the R&B veteran continues to sell out shows and drive his legion of dedicated fans wild. On Friday night, the singer/songwriter returned to BB Kings in NYC for another exceptional performance. Hot off the heels of a successful tour with Charlie Wilson and KEM, this night was all about Joe, and he gave the crowd everything.
With his band in tow, Joe hit the stage with an energetic groove, performing favorites like "Ride Wit You," "Stutter" and "Don't Wanna Be A Player."  He brought it back with his covers of Gregory Issac's "Night Nurse" and Maze feat. Frankie Beverly's classic, "Before I Let Go."  When he was ready to slow it down, Joe took the crowd to his 1997 sophomore album with favorites like "All The Things (Your Man Won't Do)," and "The Love Scene," while he touched hands with fans in the front, and even signed some autographs.
Continuing to give his all to the ladies in the house, Joe invited some female fans on stage as he closed his set with "I Wanna Know."  Proving his talent and character is that of a distinguished gentleman.  For anyone wondering what he has in store next, Joe revealed he is back in the studio working on another album, and it will be released next year.
Check out more of our exclusive photos below:
(Photos by Michael Mathis | @mrichardphoto)
[Additional details by our friends at YKIGS]