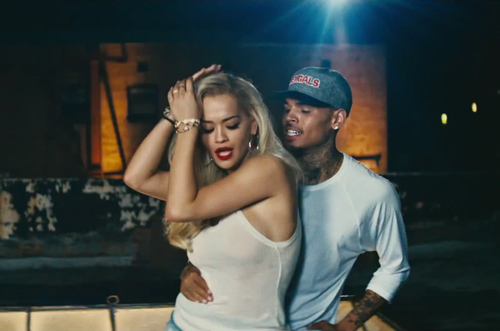 Rita Ora and Chris Brown are here to change your mood this afternoon. The singers have released the hot and steamy video for this new duet single "Body on Me," and it's everything we expected.
In the Colin Tilley-directed clip, the blonde bombshell and R&B heartthrob play neighbors who meet up in the elevator of their apartment building before fantasizing about taking their relationship to the next level. We see them making out on the couch and up against the wall in the intimate scenes before hitting the rooftop for some dirty dancing. A topless Rita drapes herself in the Union Jack, while Breezy shows off his tatted torso.
"This song is definitely kind of like the most intimate that I've ever done, so I tried to balance the video out in a classy way," Rita told Nessa on Hot 97.
To promote the single, she will embark on a U.S. tour, starting Aug. 25 in San Francisco. The nine-date trek will make stops in L.A., Las Vegas, Atlanta, Boston, New York, and D.C., wrapping Sept. 17 in Chicago.
Peep the sexy visual below: