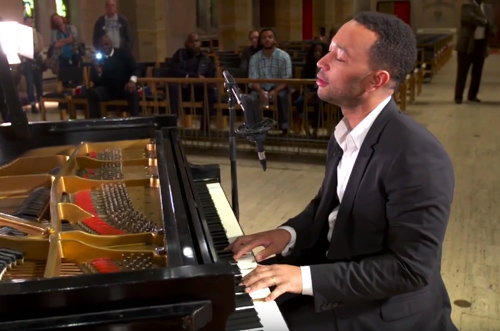 This Friday, November 20, A&E will air the exclusive concert and special "Shining a Light: A Concert for Progress on Race in America" and "Shining a Light: Conversations on Race in America," beginning at 8 PM ET.
Artists including Aloe Blacc, Andra Day, Nick Jonas, Tom Morello, Smokey Robinson and Big Sean will join the previously announced performers including John Legend, Alicia Keys, Jamie Foxx, Tori Kelly, Miguel, Pink, Jill Scott, Ed Sheeran, Sia, Bruce Springsteen, Sting and Pharrell Williams. LL Cool J, Marshall Faulk, Morgan Freeman, George Lopez, Mario Lopez, Nicki Minaj, Kurt Warner and Nick Young are among the presenters joining the telecast.
Alicia Keys, John Legend and Pharrell Williams took extraordinary journeys to Baltimore, Ferguson and Charleston, where they met with a diverse group of residents in communities at the center of the national conversation on racial inequality and violence. Joined by NPR's Michele Norris with John Legend in Ferguson, award-winning journalist Soledad O'Brien with Pharrell Williams in Charleston and ABC News' Byron Pitts with Alicia in Baltimore, these visits included intimate discussions and special private performances by each for those most effected. These incredibly moving, heart wrenching and eye-opening moments will be featured throughout the two-hour concert, as well as in the one-hour special, "Shining a Light: Conversations on Race in America," airing immediately following the concert on A&E Network and AOL.com at 10 PM ET/PT.
Take an early look at Keys and Legends performances during their visits to Baltimore and Ferguson with the clips below: