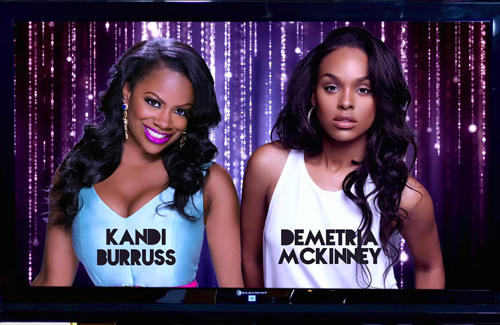 It's more than just reality, as after eight seasons of Bravo TV's "Real Housewives of Atlanta," singer/actress Demetria McKinney and R&B veteran Kandi Burruss have teamed up on the commanding new single "Unnecessary Trouble".
The playful music video, directed by Derek Blanks, premiered after Sunday night's episode of the hit show. After spoofing Andy Cohen's "Watch What Happens Live," the ladies go back and forth with one another, turning down unsolicited relationship advice.
Kandi opens the song by warning Demetria of some shady things that her man has been doing behind her back, but McKinney refuses to hear her warnings. "Girl don't tell me sh*t bout my man no more / Just like I don't say what I heard about yours," she replies.
"'Unnecessary Trouble' came from the drama of season 7 of RHOA regarding not only my relationship with my boyfriend, but also the murmurs about Kandi and Todd's relationship," explained McKinney. "The song is an anthem made to remind people that relationships have to be figured out between the people in the relationship."
Check out the video below: