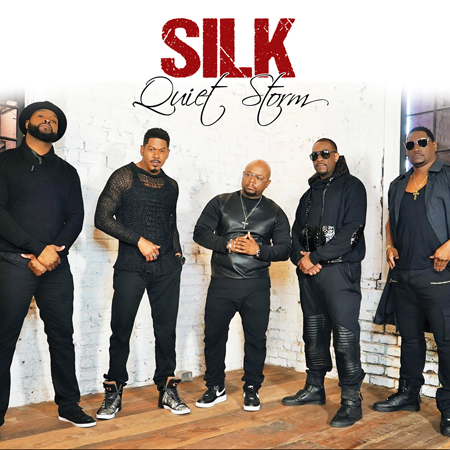 90s R&B fans have plenty to celebrate today, as veteran group SILK have released their long-awaited new album Quiet Storm, via Silk Entertainment/Shanachie Entertainment. The follow-up to 2006's Always and Forever, finds all 5 original members back together and giving fans their breath-taking harmonies as glorious as ever.
Produced by Wirlie Morris (producer of hits by Charlie Wilson, Keith Sweat and Dru Hill), the album delivers 10 all-new compositions that put the classic SILK sound into a contemporary soundscape. Highlights include the sexy "Baby Suit," the romantic lead single "Love 4 U To Like Me," and the uptempo "Billionaire."
SILK is one of the greatest and most successful R&B vocal groups of the past 20 years; protégés of Keith Sweat, they rose to fame with such smash hits as "Freak Me," "Lose Control," "Hooked On You," "If You (Lovin' Me)," and went on to sell over 4 million records worldwide. They have remained a relevant staple of the R&B scene as evidenced by appearances on the nationally televised BET Music Awards and the SoulTrain Music Awards.
We here at ThisisRnB have been excited about the album and we've teamed up with Silk to give some lucky fans a special autographed copy of the CD! We have 5 signed copies ready to land in the hands of real R&B fans anywhere.
Quiet Storm is currently available in stores and on iTunes now. See the rules and regulations for your chance to win the autographed CD below!

Rules & Regulations:
To enter for your chance to win, all you have to do is email us with the subject line 'SILK' to contest@thisisrnb.com, and tell us what you've missed most about Silk and "real" R&B music since their last album? Please include your Full Name and Email Address.
In addition, you can increase your chances of winning by tweeting or posting a message on Facebook to @ThisIsRnB saying: "I want an autographed @SILKfans #QuietStorm CD @thisisrnb". Send us the link or screen shot of your tweet/message in your email as well.
The winners will be picked by random drawing of the submitted entries. The contest will run from today through Friday, April 8.
BEST OF LUCK!!