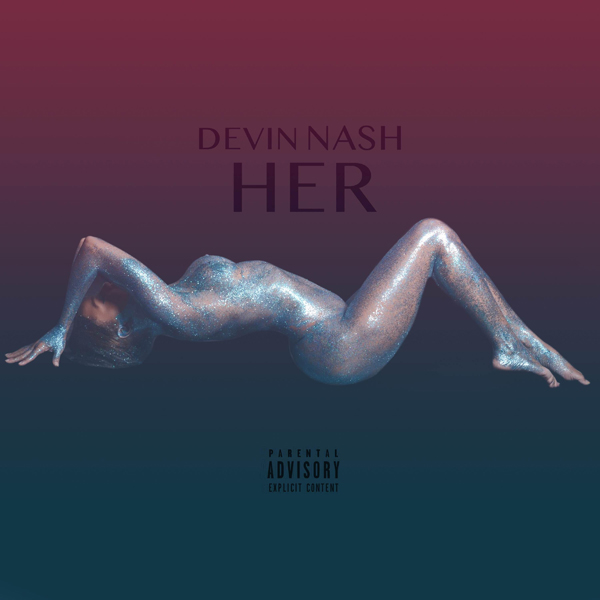 Baltimore-bred singer/songwriter Devin Nash has released his anticipated debut EP, Her, for fans and new listeners to fully experience his artistry and advancements of solidifying his name in the music industry.  One looking to cross genre lines and boundaries, the project may not fall into "typical" R&B fanfare, but it clearly delivers a look into how far the R&B mind state can expand.
Nash, who is now local to the Atlanta area, describes himself as an "urban pop artist," and cites his style of music as "Electro R&B." A fitting title for the project that he's released, the up-and-coming artist gave us a sound similar to that of former Danity Kane member Dawn Richard, with varying degrees of experimentation packed together to create one unique effort. Delivering emotionally charged tracks such as "Part-Time Lover" and the auto-tuned "OD," Her digs into both the light and dark sides of what love has to offer.
Writing and co-producing the tracks featured on Her, Devin takes listeners on a rollercoaster of feelings for their first introduction to what he's putting out. Kicking the project off with the more "electro" side of his sound with "Rhythm," and smoothing it out toward the end, the growing singer-songwriter makes his ability to teeter along the lines of multi-genre sounds very visible.
While music lovers may not know Devin Nash's name as of yet, 2016 serves to be an appropriate time to be introduced to him. Expressing his life experiences that range from the highs of sex, love, and joy, to the lows of hurt, failure, and heartache, there's no denying the fact that he's an artist that chooses to wear his actual heart on his sleeve when it comes to his music. Holding nothing back, if you're searching for a transparent look into the heart and mind of an artist, Her gives you a firsthand preview into Devin's past, present, and potential future.
Whether traditional sounding R&B is your forte or if it's the popularized sounds of Alternative R&B that piques your interest, Devin Nash's EP has a little something for everyone.
Take a listen to the project and check out which tracks made our "Notable Mentions" below:
Notable Mentions: "Tears From My Heart," "Love Won't Hurt" and "Part-Time Lover"