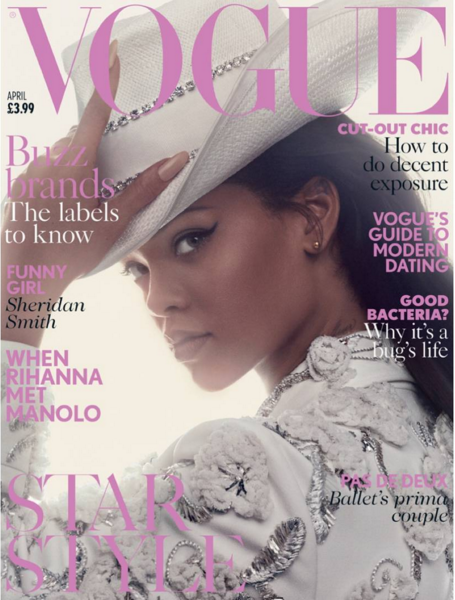 Rihanna is hitting 'em hard with that 'work' on her second British Vogue cover, which showcases her new collaboration with famous footwear designer Manolo Blahnik. The 28-year-old fashion icon sports stunning pieces from the denim-driven collection including a pair of thigh-high crystal-embellished boots, which she doesn't recommend wearing on a date.
"Guuurrrl! Those boots are dangerous!" RiRi tells the magazine. "If you're trying to get back home to your bed, don't wear them boots! You will get kidnapped in those boots, those boots are trouble."
The singer, who also dons a white diamond-studded cowboy hat on the cover, credits her mother for inspiring her style. "Oh my goodness, my mother — she is a woman's woman," she says. "I was obsessed with everything she did then, everything she wore, her scent, her shoes and her scarves… That was the glamour I wanted to be part of."
According to WWD, Rihanna x Manolo Blahnik will debut May 5. The limited-edition capsule collection, inspired by Rihanna's hand tattoos, includes a selection of sandals, pumps, and boots. Prices range from $767 to $3,483.
For those who can't afford the pricey footwear, the cover girl also recently launched a more affordable workout sneaker for PUMA called "The Trainer."