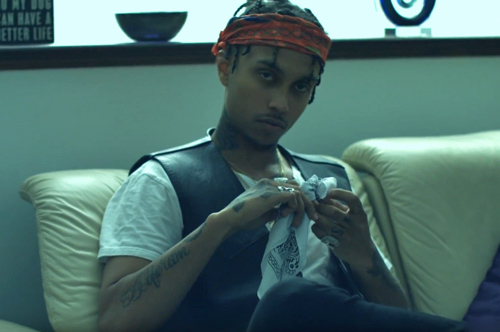 Sebastian Mikael takes us on a walk to the dark side in the film noir visuals for his new song "DYSO".
The video, which co-stars rising Hip-Hop artist Bia, is a mini movie about two partners in crime who commit a heist. "DYSO" stands for 'Dance Your Soul Out,' and in these visuals Sebastian and Bia are doing exactly that. After breaking and entering into a stranger's house, they hold the house owner hostage and dance around her as if they're playing a game. Once they grab hold of all the jewelry and precious items that they want to steal, Sebastian takes his co-star and hostage on a joy ride to the edge of a cliff in Providence, Rhode Island.
Though a body may end up missing by the end of the short film, the party for Mikael and Bia doesn't end. Through a series of extremely fast jump cuts, we're forced to put together what may have happened that night in the video. Unfortunately, we are quite sure if what happened can actually be put into words because the video plays out like one huge mind game. How they ended up in a night club in Providence, Rhode Island at 4 in the morning is a question that remains unanswered. Our best guess is that someone danced their soul out all the way to the bank!
Check out the cinematic video below.
–Words by Jamila Wright