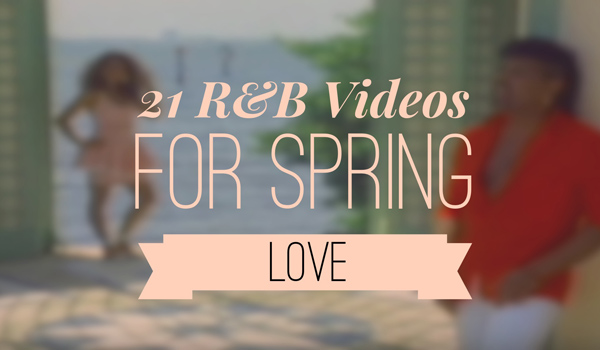 Ah, spring! The season where the weather is nice, the flowers start to bloom, and R&B songs reign supreme!
As the weather finally went from drab to fab in the blink of an eye, I couldn't help but play one of my favorite songs dedicated to the spring: Stevie B's 1988 hit-single "Spring Love".  Now, in the midst of me bobbin' my head while the wind blew through and hit my bad hair day chia pet hair, I realized that this is the season that is the precursor to the official choose up season (word to Eric B.). It is in the spring that you engage in the drafting to the choose up season…if you will. It is with spring that you start laying down the good talk game to secure your spot for the playoff season if you're in the market to be traded or do the trading.
Of course though, we all know that R&B is literally the genre of love (and heartache, but we'll save that for another list), so it was only right that we delivered a list of R&B songs/videos from the 2000s to get you ready for spring love! What better way to let the one you're checkin' for know that they've caught your eye then to play them a track from one of the best eras (I'm not here to let you debate me, so don't try) of music ever made?
Jump into our list of "21 R&B Videos from The 2000's to Get You Ready for Spring Love" below!
"Why Don't We Fall In Love" – Amerie (2002)
Spring love wouldn't be a real love without Amerie's "Why Don't We Fall In Love". While it can give you the feeling of summer as well, it's still a top pick for letting your crush know that it's almost time to choose up.