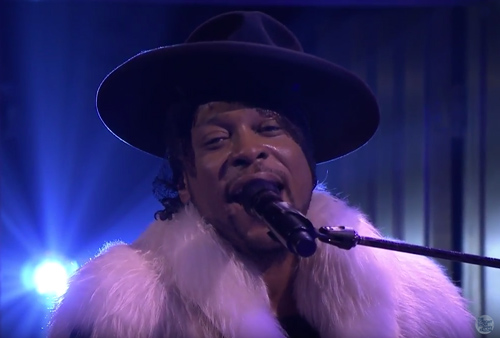 The tributes to Prince have been pouring in from all across the globe, but on Tuesday night (April 26), we received probably the best surprise and exciting performances yet. Known for his fandom of The Purple One, D'Angelo paid a visit to "The Tonight Show starring Jimmy Fallon" for a guest performance and tribute to Prince.
Seated at a grand piano, rocking a white fur vest and wide-brim black hat, the elusive soul/R&B artist performed a cover of "Sometimes It Snows in April," with a little help from Maya Rudolph and Gretchen Lieberum's cover band, Princess.
D'Angelo delivered a stellar rendition of the heartfelt ballad, and got emotional toward the end, singing: "Often dream of heaven, and I know that Prince is there…Maybe he's found the answer to all the April snow."
Watch the emotional performance below!