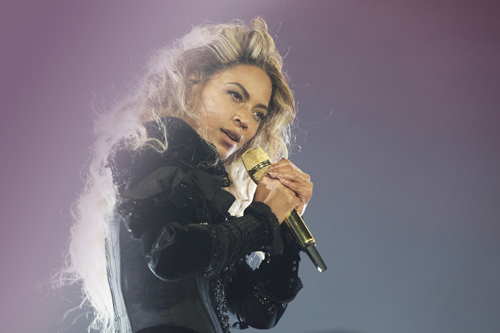 When Beyoncé released her visual album LEMONADE last month, there were fans calling out "Daddy Lessons" as a possible No. 1 hit on Top 40 and Country radio.
The Houston native's Southern music roots are interwoven throughout the No. 1 album, but on "Daddy Lessons," she mixes New Orleans horns and country lyrics and messaging with a sprinkle of Texas enthusiasm. And many in Nashville are welcoming music's reigning queen to the format.

Country singer Dierks Bentley said he loved the whole album, but when he heard "Daddy Lessons," he immediately thought it was a country song.
"There is just something intangible about it that it feels like a country song," Bentley said. "It's not just choruses that are catchy and verses that could be intermixed anywhere as some pop songs are. It's a real story that she tells about what's going on in her life growing up."
Karen Fairchild of Little Big Town said, "She has some stories to tell – that's clear on Lemonade. And that's what makes country music great."
The Dixie Chicks covered the song during their current national tour and even Blake Shelton defended the song from critics who say it's not country. Female country artists in particular have loved Beyonce's emphasis on the feminine perspective in pop music for years: Reba McEntire cut a version of Beyonce's "If I Were a Boy" in 2010.
"Daddy Lessons," which debuted at No. 41 on Billboard's Hot 100 chart, starts off with an extended horn intro, then Beyonce namechecks her home state of Texas. Led by an acoustic guitar with hand claps marking the rhythm, she sings about lessons she learned from her father and former manager. With its lyrical references to the Second Amendment, the Bible and guns, "Daddy Lessons" could easily pass as the latest feisty hit from Miranda Lambert.
Fairchild said that Lambert would be a perfect duet partner for Beyonce on "Daddy Lessons," adding "but I am getting in on that, if that's happening."
Nationally syndicated country radio host Bobby Bones played the song on his iHeartRadio morning show, "The Bobby Bones Show," and said the feedback from his listeners was positive.
"With country music it's all about the message, how you are able to present it and the authenticity of it," Bones said. "It's not just an acoustic guitar and a cowboy hat. I think the message of being true and honest has stayed the same from the beginning and I think the Beyonce song fits that mold."
He compared it to Timberlake's "Drink Me Away," a pop song that originally was released in 2013, but had a second life on country radio last year because of his well-received performance of the song with Chris Stapleton on national television.
"Beyonce is an artist that you wouldn't normally associate with country radio. And like a lot of new artists, I think it would take a lot of listeners a second to say, 'OK, I get this," Bones said. "I think it could be a No. 1 hit for Beyonce, if there is some time and effort put into it."
via Billboard