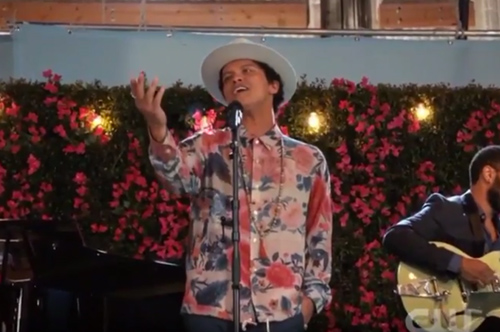 Bruno Mars fans were in for a big surprise on Monday night, as the superstar appeared on the Season 2 finale of the hit CW show 'Jane the Virgin.'
Lead character Jane (played by Gina Rodriguez) was getting married to her leading man Michael (Brett Dier), when Mars appeared at their wedding and serenaded the happy couple with a heartfelt ballad called "Rest of My Life." The song had been in Bruno's vault for many years, but he was looking for the right place to use it, and being a fan of the show he felt it would be the perfect fit to debut it on the finale.
On the show, Jane's father is a famous telenovela star with many A-list pals, which explains why Mars' cameo — playing himself — made sense. A new classic wedding song in the making, Mars delivers deep emotion with simplistic, honest lyrics.
"As I stand here before my woman, I can't fight back the tears in my eyes / Ohh how could I be so lucky? / I must have done something right, and I promise to love her for the rest of my life," he sings.
Watch Bruno's touching performance below.