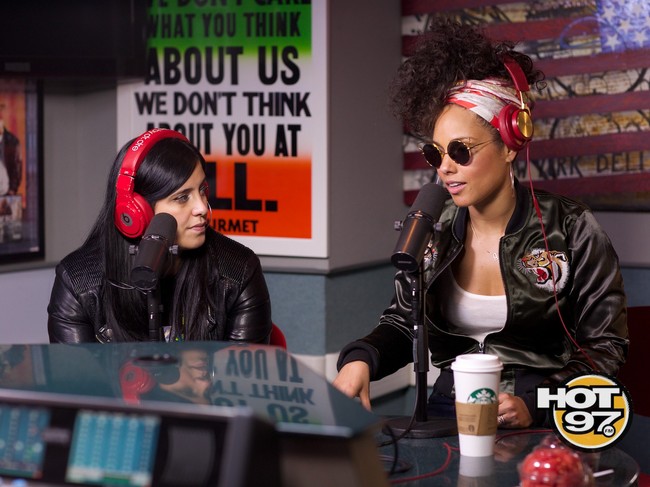 Alicia Keys swung double interview duty at Hot 97 on Monday. First, the R&B superstar, who just released her powerful new short film Let Me In, caught up with the whole Ebro In The Morning crew. Speaking with Laura, Rosenberg and Old Man Ebro, the "In Common" singer talked about her new music and anticipated upcoming album. She also spoke about the purpose and creation of the Let Me In film, her no make-up movement, how her 5-year-old son Egypt made a track that Kendrick Lamar used on his surprise project Untitled Unmastered, and how she spent Father's Day with hubbie Swizz Beatz.
Additionally, Alicia hit the couch for a second interview of her visit with Nessa. During their chat, she continued to elaborate on some of the similar topics, but also she discussed her experience being insecure about herself and why she became so honest in her music.
"One of the reasons I started talking so honestly, and so clearly and trying to understand because I found out I became so…censored," she said. "I became so politically freakin' correct it was like too much. I can't even have an opinion. I was so annoyed at myself for valuing peoples opinions of me so much that it would change the choice I would make naturally for myself so that they would approve of my choice, or my opinion. And it started to become too much. I feel like we do this as human beings, but especially as women."
Alicia's currently-untitled new album may drop in August, and we might even get some beats from her son on there, although she hasn't went that route yet.
Check out both new interviews below.
(Photo by Karl Ferguson Jr.)