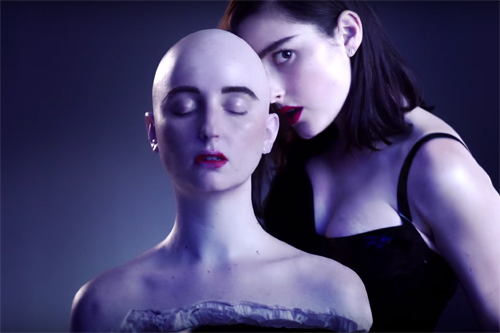 Alt-R&B singer Banks has announced the follow-up to her well-received 2014 debut album, Goddess. While she only shared a release date (Sept. 30), the California native has also delivered the effort's first single, "F*ck With Myself."
Self-love is the concept behind the eerie, seductive song, which shines with vibed out synths, and minimalist 808s.
"This song is about being your own best friend, your own mother, and your own lover," Banks said in a press release. "I used to care what you think about me," she coos on the chorus. "'Cause my love's so good/ So I fuck with myself more than anybody else."
The video amplifies this self-love to an almost literal degree, as Banks caresses a realistic rubber bust of herself and watches herself in a broken mirror. The centerpiece of the clip, however, finds the singer gyrating in a magenta-lit room surrounded by contorting dancers all wearing her face as a mask.
Check out the avant-garde video below.