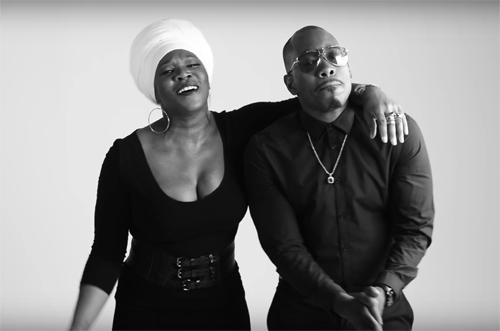 Creative artists like Anthony David, don't simply push the envelope, they expand it. The Grammy nominated singer/songwriter exists in the superior universe of non-conformity. The video for his new single, "Beautiful Problem," embodies David's signature style: exposed, intense, simple yet, complex. Directed by Drexina Nelson, the black and white visuals open with David singing solo against a bare backdrop. A montage of images feature an agile dancer and a wild cat fading in and out on screen, with alternating shots of David and a mysterious woman. Her demeanor visibly fluctuates as David sings about the sweet and the sour that lures us in life.
As the images advance, David strums his guitar, a melodic companion with which he is known to captivate  crowds.  Wardrobe changes from black to white symbolize the contrast felt from one extreme to the next. Near the end of the video, the woman releases her enigmatic presence. She appears triumphant over her sorrows, embracing the beautiful problem.  A cameo from David's longtime friend and collaborator, India.Arie, is a beautiful sight as the visuals fade to black.
"'Beautiful Problem' represents life and the trials you can go through that ultimately make you better and stronger. It's really open to interpretation for people to relate to in several ways," explains David.
The piano driven ballad awakens a range of emotions with mesmerizing melodies and soul searching lyrics. Anthony David's husky tenor gives life with each encounter. His fifth studio album, The PowerFUL Now is due out August 26th on Shanachie Entertainment.
Peep the visuals for "Beautiful Problem" below.
–Words by Raquelle Harris