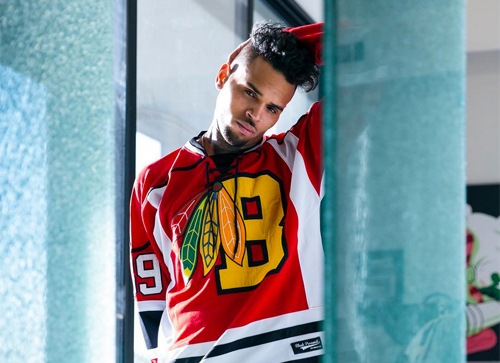 Uh Oh! Bad news in Breezy town.
After a lengthy standoff with the LAPD on Tuesday, Chris Brown has been arrested and will be booked on suspicion of assault with a deadly weapon.
A young woman by the name of Baylee Curran accused Brown of threatening her with a gun while at his Tarzana, CA home. The former beauty queen, who had partied with Brown in the past, claims an argument resulted after she admired some of his jewelry. Chris reportedly demanded that she "get the f*** out" and pointed a gun at her.
Officers responded to the scene around 3 a.m. on Tuesday (Aug. 30) following a 911 call from a woman requesting help. Curran filed a police report and cops obtained a search warrant.
He is being taken to the Robbery Homicide Division of the LAPD for questioning.
Earlier in the day, Brown took to social media to deny the accusations.
"I'm sleep half the damn night," he said in the Instagram video. "I just wake up and all these motherfuckin' helicopter choppers is around, police out there at the gate. Come on, my ni**a. What the fuck else y'all want from me, bro? I stay out of the way, take care of my daughter, do work. I don't even fuck ugly bitches, triflin' bitches. Whatever the fuck it is, I'm not on that, bro…I'm innocent. Fuck everybody."
He continued, "All y'all can suck a fart out my ass for all I care," he said while smoking. "What I do care about is y'all defacing my name as a person and my character and integrity. I am a father. I am one of the best entertainers out here without bragging and trying to say 'Woe is me, I don't get enough credit.' All y'all ni**as know. I'm y'all daddy, ni**a."
He has received support from his peers including Omarion, K. Michelle, and Ray J, how was actually at Brown's house during the incident, but was let go by police after being questioned.
— OMARION (@1Omarion) August 31, 2016
They have a helicopter over this man's house, but they leave a black man laying dead In the street for hours. Hmmm

— K. Michelle (@kmichelle) August 30, 2016