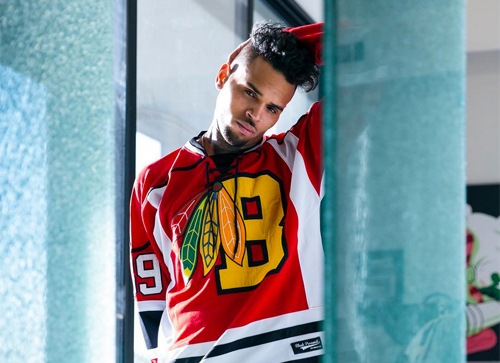 After being arrested on charges of assault with a deadly weapon, Chris Brown is a free man.
The R&B star was released from jail on Tuesday night (Aug. 30) after posting a $250,000 bail following an hours long standoff with police at his Tarzana, CA residence. Brown was released at 11:19 p.m., according to Los Angeles County jail records. His first court appearance in the matter is scheduled for Sept. 20 at Clara Shortridge Foltz Criminal Justice Center.
Brown's attorney Mark Geragos tweeted an update after Brown's release. "Thanks to everyone for their support and well wishes," he wrote. "Chris is out and well. The allegations against him are demonstrably false #TeamBreezy."
On Tuesday morning, police responded to a call around 3 a.m. from a woman who needed assistance. The robbery-homicide division took over the investigation and Brown emerged from his home after police served him with a warrant.
The woman, model Baylee Curan, said that Brown and another man became angry when she admired the man's diamond necklace. She also said that Brown threatened her with a gun before asking her to sign a nondisclosure agreement.
A short time later, Brown posted a series of (since deleted) Instagram videos in which he claimed his innocence. "When I call the police for dangerous people that are stalking my life, they don't come till the next day," he said in one clip. "Let somebody make a f–ked up allegation about me and oh yeah, the whole f–king SWAT team. My n—a. I'm innocent. I'm tired of this s–t."
TMZ has already began digging up some dirt on the accuser, who apparently is wanted for questioning in New York City for a theft at The Plaza Hotel. It was also reported that she was stripped of her California beauty pageant crown after nude photos of the model surfaced online, and she lied about them.