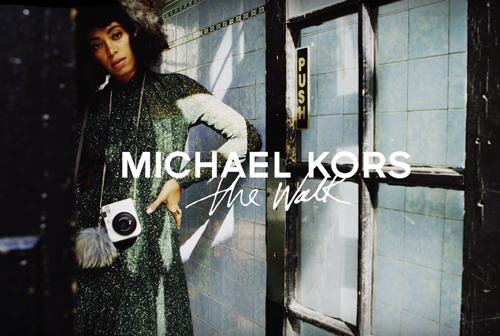 Solange is the new face of Michael Kors.
The R&B songstress stars as the leading lady in The Walk, the brand's first-ever street-style campaign, which was shot by photographer Tommy Ton.
The images, snapped in Manhattan's West Village and Greenwich Village, are accompanied by a stunning 43-second long Wednesday Agency-directed visual.
In the pics, Solange rocks a faux fur green jacket over a matching neck tie blouse paired with black leather pants and white kicks. The video shows her in a knee-high dress, shades, and sneakers. Confident as ever, Solange appears throughout the clip, exploring New York through her own love of photography.
"Solange is strong and passionate and not afraid to share her opinion with the world — and that type of confidence always makes an impact," Kors told Billboard. "She's a true trendsetter. I love how she takes some of our pieces and makes them her own."
Fans who want to join the campaign can share images using the #SidewalkSpotted hashtag for a chance to be featured on The Walk.