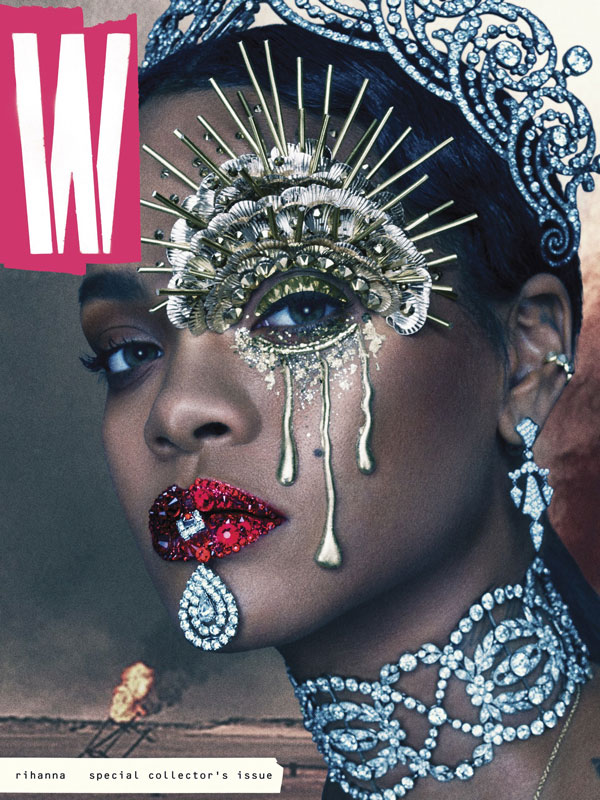 After slaying another galaxy with "Sledgehammer," Rihanna could quite possibly rule the world in a not so distant future.
The pop mega-star shows us what that would potentially look like in her latest W Magazine cover spread. RiRi rules as a post-apocalyptic queen in the special collector's issue, which was inspired by Imperator Furiosa, a character played by Charlize Theron in the 2015 film Mad Max: Fury Road.
Styled by Edward Enninful and photographed by Steven Klein, the shoot features various designers working together to make the Bad Gal "the ruling warrior queen in a dark, dystopian future." Creative director Enninful said the ANTI chart-topper was treated like royalty for this project. "Rihanna is playing the Queen," he said. "So everything has to be custom made specifically for her."
The "Work" singer gives a devastatingly seductive glare on the September 2016 cover, which is a neck-up portrait shot featuring gems and diamonds as both makeup and jewelry. In this pic, she also dons a Cartier tiara, earrings, and necklace.
RiRi strikes a series of badass poses (holding a rabid dog on a chain, backed by smoke and fire), while clad in different designer pieces, including works by Maison Margiela, Gareth Pugh, Manolo Blahnik, Prada, and Dior.
Check out the photos below.
(Photos by Steven Klein via W Magazine)