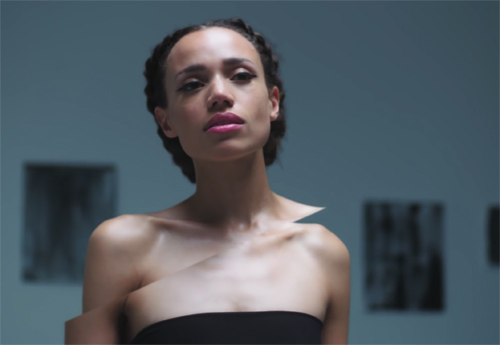 The U.K. just has a way with nurturing soul-enamoring goddesses. We've accepted it as just the nature of the artistic landscape today.  So, the latest immaculate conception is London born singer JONES, who has been blessing listeners since last year.
This week, the singer/songwriter debuted the music video for her latest, smooth-as-all-get-up, single "Melt," and it's just as visually pleasing as aurally.
Standing in a grey room as the center focal point of the visual, JONES begins to sway and dance in a performance art style, when diagonally cut frames slice her body and multiply her into varying shapes and pieces, expanding her reach. Additional graphic shapes and lines appear adding to the modern art appeal, but JONES vocal still steals the show.
"We started with nothin, grew into somethin / We got the heat, to last a lifetime, if it's the right time / Trust in me," she sings.
"Melt" is the newest single from JONES forthcoming debut album, New Skin, which is due out October 7th.
Get lost in the stunning video below.