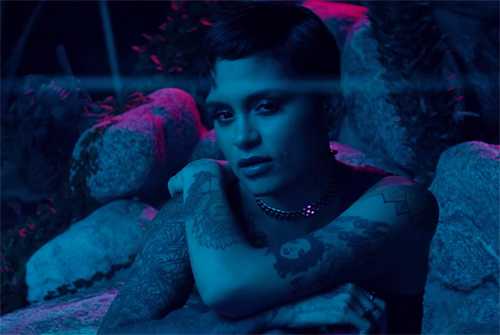 Following the premiere weekend of Suicide Squad the movie, Kehlani surprises with a premiere of her own! Contributing one of the most compelling, original songs to the film, the young star now debuts the official music video for "Gangsta."
Opening the dark visual, the singer is seen laying on a floor filled with broken glass, while wielding a baseball bat, the weapon of choice of Harley Quinn (played by Margot Robbie). In her second scene, Kehlani sits on a pile of rocks, showing off her latest short hairdo, while seductively singing the intoxicating lyrics.
"I'm f*cked up, I'm black and blue / I'm built for it, all the abuse / I got secrets, that nobody, nobody know," she coos.
Clips from the movie are spliced in between the video, giving fans who haven't seen it yet, another preview of Harley and The Joker's (played by Jared Leto) toxic relationship.
Check out the "Gangsta" video below.