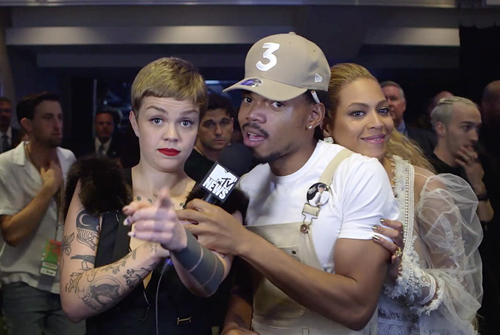 Chance the Rapper was already having a great night at the VMAs on Sunday, but a special moment backstage even surprised the Chicago MC.
While being interviewed by MTV, Beyoncé came up behind him, causing him to fan out with excitement.
Chance was warning Drake that he was "coming for [his] muscles" when Bey popped up, smiling at the camera and resting her chin on his shoulder. When Chance realized who was interview bombing him, he was shocked.
"Oh my God, that was Beyoncé!," he said.
Notorious for avoiding interviews, a smiling Queen Bey briefly said hello and praised MTV's host Meredith Graves on her tattoos. But before long, she was gone, leaving Chance full of joy, yelling "This my life!"
Check out the memorable moment below.