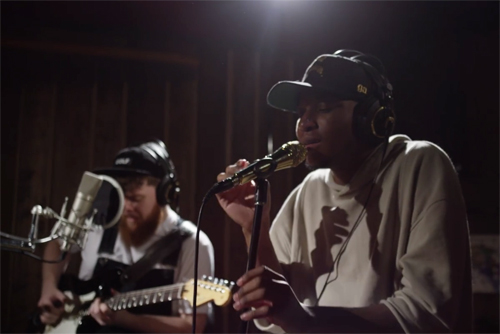 Gallant has been touring heavily in promotion of his acclaimed debut album Ology, but thankfully for us he took a break to film the third performance in his compelling "In The Room" series.
This time teaming up with British singer-songwriter, Jack Garratt, the unexpected duo perform a stripped-down cover of Janet Jackson's classic single "I Get So Lonely."
Filmed in one take at Tune Room Studios in Wilmington, DE, Garratt plays guitar offering unique electric licks to the original concept, while both deliver raw, emotive vocals.
When asked why they chose to cover this song, they said, "Cause it's sexy as hell." Gallant continued, "Both of us are influenced and really inspired by soul music during that time period in the '90s and Jack does this style way better than I do [laughs], so I just thought it would come naturally to both of us. And Janet is, you know, the greatest of all time so it just made sense."
Previously, Gallant collaborated with Sufjan Stevens on the latter's "Blue Bucket of Gold," and with iconic singer Seal to perform a duet of Gallant's breakout single "Weight In Gold."
Check out their dope cover below.