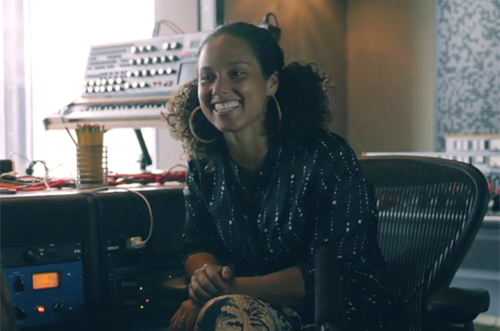 Alicia Keys is the latest musical genius to sit down with NPR Music for their 'Noteworthy' mini documentary series.
Host Jason King, curator of NPR Music's R&B stream "I'll Take You There," uncovers new insights behind the singer/songwriter's creative process, which began as a young girl being forced to endure extended piano lessons.
Keys has become one of our greatest musicians today, and has given the world numerous classic hits, but according to her, writing still comes as a surprise, and from an unknown place. "Every time I write a song, I never know how it happens. And I kinda always wanna be like that," she says. "Some people are very mathematical writers, which is very intriguing. It's so opposite from me."
In addition to discussing her writing and creative process, Alicia also opens up about her newfound vulnerability and willingness to work with collaborators. "If you try to control things too much, you miss the magic," she explains. "It's so vulnerable … Who wants to just bare their entire fears, insecurities, mistakes in front of people who can look at you and judge you and whatever? That's super, super scary."
Check out Alicia's Noteworthy doc below.