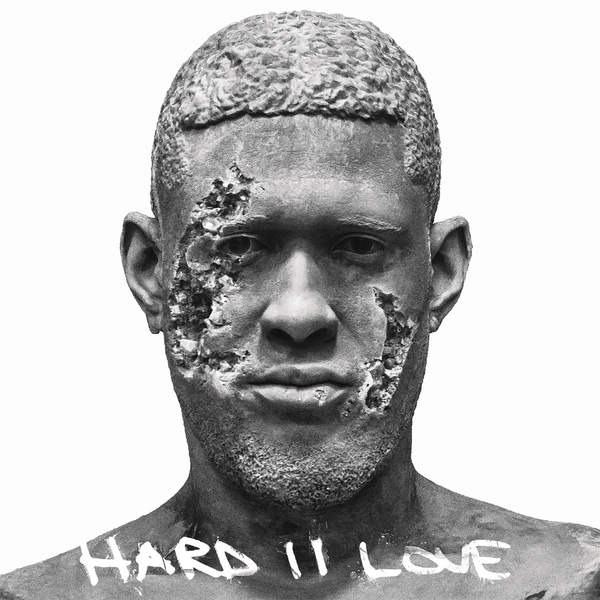 Usher has been putting it down for over 20 years now, earning the right to be considered an industry icon. On his eighth studio album, Hard II Love, he pulls rank—reminding the younger cats that he's a Trap Soul pioneer. Similar to his previous releases, Usher's transparent about his messy ways and attempts to make amends as he straddles the thin line between ratchet and romantic. It's apparent that his longevity is partly due to his ability to seamlessly transition between genres and personas.
Opening with "Need U," the R&B maestro humbly admits that he effed up, but he needs his lady love to salvage their relationship. As the track ends, actress Priyanka Chopra candidly explains that women want " … somebody that's got confidence … he should make me feel safe, make me laugh, everything about him should feel sexy …" Usher responds with his own list, as he slides into the bouncy  "Missin' U," telling his former boo: "I dreamt about you last night, I didn't wanna wake up." Heavy bass is present on many of the songs, but the retro breakdown stands out on this track.

Stirring up dust from the dirty south, Usher gets 'bout it on "No Limit," featuring Young Thug—flexing his penchant for being a gentleman one moment and a gigolo the next.  Inner freaks are unleashed on the grind-worthy "Bump."  While an enticing Ready for the World sample on the sensual, "Let Me" will likely arouse old school loving. The hypnotic "Down Time" and the pulsating "Crash" emit a mellow vibe that dissipates as Usher comes through on the flirty, Pharrell produced, "FWM." Remaining confident and cocky, the Grammy Award winning singer/songwriter coaxes chance as he vows to "Make U A Believer."
In true grown man fashion, Usher is unapologetic for indulging his insatiable desires on the raw and uncut "Mind of A Man" interlude. Reppin' the "A," he collabs with Future on the reggae-inspired club joint,"Rivals," followed by a passionate falsetto on the slow-grind panty dropper, "Tell Me." A daunting guitar surrounds sobering maturity on Hard II Love's title track as he laments, "I know that I'm hard to love, hard to love, hard to love … I know that I'm hard to trust, hard to trust, hard to trust … it's like you're gambling, falling for me / I'll kill you /You're gon' lose it all."
Usher closes Hard II Love, with triumph over tragedy on "Stronger," and the partially Raphael Saadiq-penned "Champions."  The uplifting duet features actor Édgar Ramírez from the film, Hands of Stone, which co-stars Usher as Sugar Ray Leonard.
Fusing R&B, Crunk, Pop and EDM, Usher has clearly found himself since 2012's Looking 4 Myself. The album's flaws, such as familiar themes and sounds from previous releases, are overpowered by Usher's bold artistry.  Glimpses of  his seminal Confessions, coupled with his evolution make Hard II Love worth the wait.
–Words by Raquelle Harris
Hard II Love is available everywhere now.