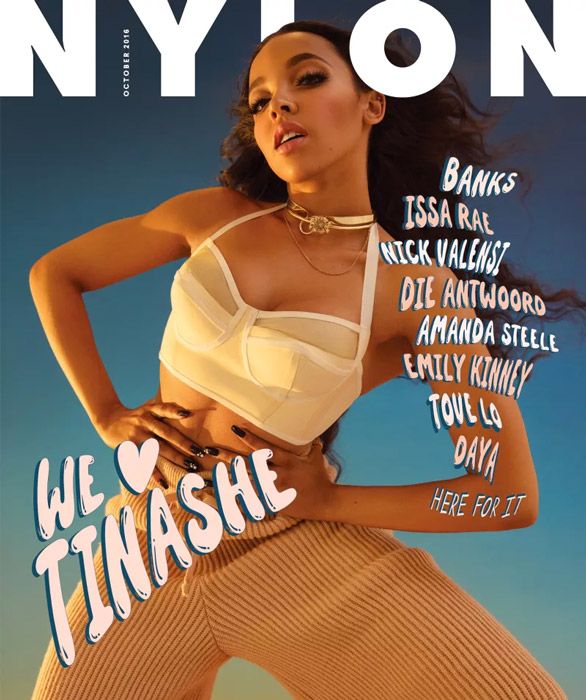 Hot on the heels of releasing her new cuffing season-ready single "Company," Tinashe covers the October issue of Nylon.
Inside the feature, the songstress shows off her daring style in front of a blazing sunset and starlit backdrop. Whether rocking a body suit and boots by Emilio Pucci or pieces by Alexander Wang, Tinashe's glow shines through in images captured by photographer Anairam.
While she's confident in every photo, including the cover in which she wraps both hands around her waist, Tinashe's had to battle insecurity along with the delays of her sophomore album Joyride.
"I've never been insecure. I've never doubted myself," she explains, "but I've had those thoughts seep in, and it's very scary because I would never want to be the type of person who was afraid to do whatever they wanted to do, or was just too caught up in their own head that they didn't put themselves out there."

Although she admits that frustration, she says she isn't upset with her label, RCA. "It's the business aspect," she adds. "There's always going to be a difference in opinion because they're just looking at things from a different side. And I'm not mad at them for it."
She has been, however, mad at how she's been treated in the media. "It's disgusting sometimes," she says, reflecting on a Hot 97 interview where her tongue was measured.
"You can either a) be a good sport or b) walk out of the room," she says. "And, again, what exactly does that prove? I don't want to be subjected to objectification, but then I don't get the interview. And I do want an interview with Hot 97. I want them to play my songs. So some of it is just stuff that I've learned comes with it. I try to brush it off. But hopefully I can get to a point where I'm respected enough for my music that I'm able to change the way that male DJs think of female artists. We have it a lot harder in general."
Tinashe goes on to say that she's also felt objectified and/or sexualized by fans and fellow artists. Speaking of fellow artists, Tinashe was asked about collaborating with R. Kelly on "Let's Be Real" and Chris Brown on "Player," a track since-scrapped from Joyride.
"It wasn't my decision," she says of the Brown collab. "That's what people don't understand. But you know, at the end of the day, I still really respect him as an artist. I think he's really talented. It was always a goal of mine to collaborate with him at some point."
The October issue of Nylon with Tinashe hits newsstands Sept. 27. Meanwhile, Joyride is expected this fall.