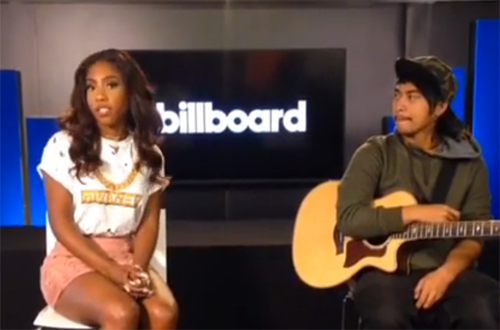 Sevyn Streeter is on fire following the release of her hot new single and video "My Love For You." The R&B songstress paid a visit to the Billboard offices on Wednesday for a special Facebook live session, which included a performance and Q&A.
Fans of the singer/songwriter will be happy to see Sevyn perform two more brand new songs off her forthcoming debut album Girl Disrupted. Kicking off the performance with an acoustic rendition of the unreleased "Before I Do," which sounds like a tender love song about potentially leaving a relationship or not. The second song was "D4L" aka 'Down 4 Life,' which has a cool bounce. For her third song, Sevyn sang an acoustic rendition of "My Love For You" which was dope.
During the Q&A, she spoke about her inspiration behind and writing "My Love For You" even though she wasn't actually in love at the time. Sevyn also talked about connecting with Gucci Mane on her official lead single "Prolly." On another tip she gave her picks for which artists she would like to work with on a female anthem, and got deeper into what fans can expect from Girl Disrupted, which doesn't have a release date, but is due out in early 2017.
Check out Sevyn's live performance and interview below.