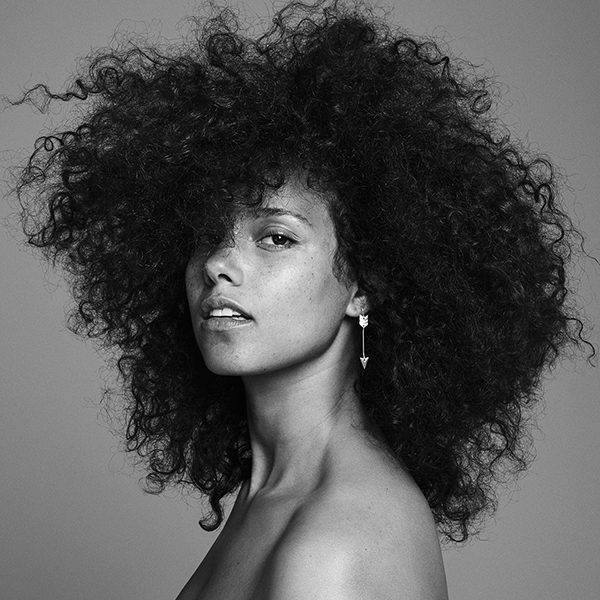 In addition to releasing her new single "Blended Family," Alicia Keys has announced the title and release date for her long-awaited sixth studio album.
Simply named HERE, the follow-up to 2012's Girl on Fire will arrive on Nov. 4 and is available for pre-order on iTunes now. The stunning black-and-white cover features a makeup-free and shirtless Alicia with natural curly hair.
HERE serves as an ode to her hometown of NYC. "This album is so much about life, New York City, us as people, all the stories I saw growing up," Alicia said during a recent appearance on the "Today" show. "It sounds like the New York that I know. It's aggressive, it's raw, it's me being my most truthful…It is such powerful music. You are going to go crazy."

The 16-track set features the single "Blended Family (What You Do for Love)" featuring A$AP Rocky. The song, dedicated to Swizz Beatz' son, Kasseem Dean Jr., celebrates her and her husband's ex Mashonda's "commitment to each other with support and true growth."
Alicia also released the singles "In Common" and "Hallelujah" earlier this year, but both are currently absent from the iTunes tracklisting.
She will perform a free concert for fans in NYC this Sunday (Oct. 9) and host her annual Keep a Child Alive Black Ball on Oct. 19 at New York's Hammerstein Ballroom.
My new album: HERE. Out 11/4. Pre-order to receive my new song Blended Family (What You Do For Love) today ? https://t.co/OcKMYEoFOo pic.twitter.com/6Kylor8aph

— Alicia Keys (@aliciakeys) October 7, 2016