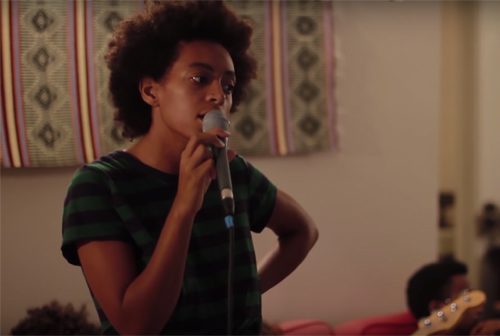 Solange surprised us all with the release of her excellent new album A Seat at the Table, which she dropped last Friday (Sept. 30).
Today, the singer/songwriter unveils a behind-the-scenes visual for fans titled, "Beginning Stages." The 11-minute clip gives fans a look into Solange's songwriting process and the jam sessions, experimentation, and collaborations that shaped ASATT.
While some of the jam sessions featured did not make the album, they helped to create and identify the sonic tone, and the early lyrics and concepts Solange wrote for the project.
"This video is broken up into 3 different parts," Solange explains. "The first and second parts happened in Long Island and New Orleans where I first started to jam and collaborate on ideas with the incredible artists and musicians featured (as well as some other incredible artist and musicians who are not shown here). A lot of these days would just start with me singing a melody or someone playing a synth part or bass line, and would transition into an hour-long jam.
"The third part," she continues, "is me taking all of these jams to New Iberia, LA with just my engineers and creating the actual song structures, building the sounds, and writing the lyrics and melodies."
Eventually, Solange took these tracks to L.A. to collaborate with Raphael Saadiq and Troy Johnson. "When I look back at the beginning stages," she adds, "I remember the powerful energy that set the tone, and that I'm so grateful followed us everywhere during the creation of this record."
Take a look at her artistic journey to 'The Table' below.