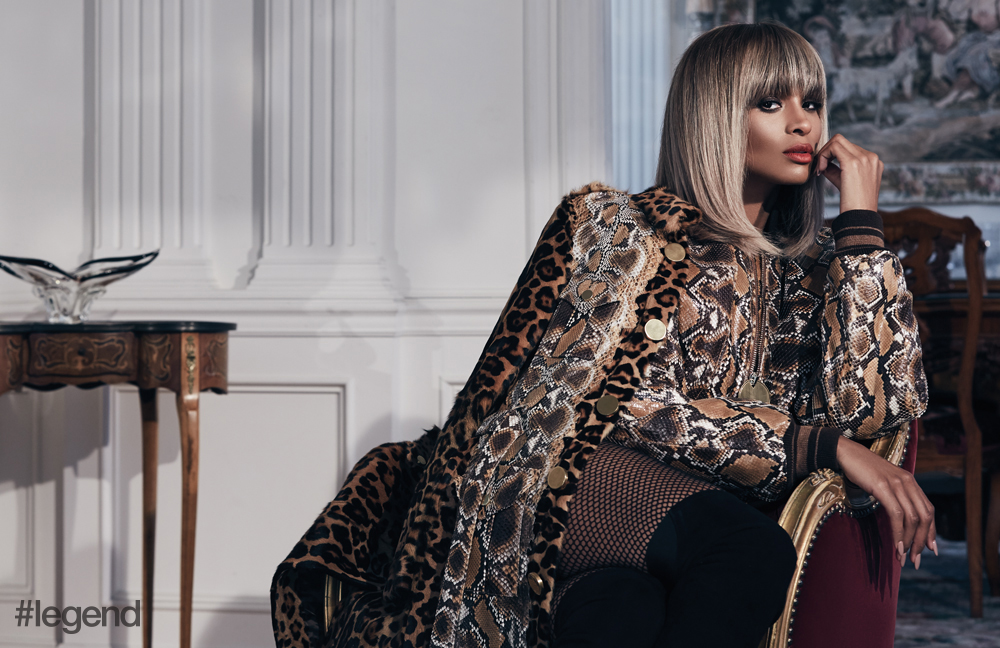 Ciara has most recently made headlines for her marriage to Seattle Seahawks quarterback Russell Wilson, but the gifted artist and actress is continuing to pursue her fashion career at 30-years-old with her recent signing to IMG Models.
Already a regular in the front row at Paris and New York Fashion Weeks, the talented performer, mother and wife is making her formal entry into the fashion world.
The Atlanta native has lent her flawless looks and willowy frame to several high-profile campaigns. She has been the face of Roberto Cavalli's autumn/winter 2016 campaign, the first American ambassador to Topshop and was in the latest campaign for Keds. She's also a long-time muse for Givenchy, cultivating close friendships with designer Riccardo Tisci, as well as with Ralph Lauren and Peter Dundas.
Now gracing the cover of #Legend Magazine, CiCi posed for a glamorous photo shoot by Dennis Leupold, where she stunned in high-end designs by the likes of Balmain, Versace, Lanvin, Naeem Khan, Givenchy, Saint Laurent and more. During her interview, Ciara talks about her new foray into modeling, her fantasy wedding day, motherhood, upcoming music and much more.
Check out the photos and some excerpts from her feature below.
ON RECENT SIGNING TO IMG AND MODELING CAREER: I've been fortunate over the years; I've had really cool collaborations and been part of cool campaigns. I've been blessed to have friends that I've met in the fashion world. It's been an inspiring adventure. The exciting thing about the partnership with IMG is that I can. The ultimate goal is to do more. As an entertainer, fashion and music go hand in hand. There's no one better than IMG to do that. I want to pose more in fashion shoots and do more cool fashion partnerships.
ON BEING A RUNWAY MODEL: Yes, I think that would be cool. I think walking or doing something unique, like performing, would be really cool too. I'm still an entertainer first. But I would love to walk down a runway. Maybe on one of my collaborations, that would be really fun and different.
ON DOING FASHION DESIGN: Absolutely. It's always been my intention to have my own clothing line. That's one of my goals. It's all about timing and making sure I have everything set up, but I've definitely always had a goal to have my own line and to be successful with it.
ON CHOOSING HER MODELING CAMPAIGNS: For me, it's one of those things you must feel connected to. Something I've learned over time is that whenever I do business I want to make sure it's something that I'm truly passionate about. I believe that's the true key to success, to have a genuine connection to the brand that you work with. You're doing things that you love. That's how I roll and it makes for a fun experience because you're excited to talk about the brand, you're excited to promote it and to grow the company. All those things are important to me. You have to have a true connection. The brand can't just be a fan of you, you've got to be a fan of the brand too.
ON HER NEW MUSIC & NEXT ALBUM: I'm making an album. That's really exciting, it's something I'm taking my time on. I want to make sure that I put myself in every part of it, all my creative thoughts, feelings, everything on this album. But I can't say where I am in the process right now. I don't want to mark a specific point but what's important is that it will be something for the fans, whom I'm very grateful for. I'm not at a place where I'm ready to share the creative details because I want it to be special for my fans when I do share it. I want it to be exciting when it's time for me to share it. I can't wait for that day to come.
ON SONGWRITING AND INSPIRATION FOR THE ALBUM: It can be anything. What's so great about the inspiration is that it's not planned. Sometimes you wake up one day and you feel a certain way, you go out and see something and you say, 'Wow that's so inspiring. I want to write about that'. Sometimes the music itself takes you to a different place and points you in a direction, writing-wise. There's so many things that inspire me in the process. I think the best thing is to let it sink in for a minute, I think that's really important.
THE FAVORITE MEMORY FROM HER WEDDING: I definitely can say it was two of the most perfect days in my life. The day before and the day of the actual wedding was a special time. When we get married, we only get it once, you can't repeat it. So, it was like, 'man, it's over already?'
It was honestly so beautiful and I really felt like I was in a fairy tale. It was everything I hoped for. Everything I could have hoped for, dreamed of, happened on that day. It was memorable. We spent two days with all the people that we love, your family and your close friends. I'm definitely still floating, it's only three months ago and it's crazy how time goes by.
ON MOTHERHOOD: Motherhood, oh my gosh, it's one of the best jobs in life. My family, my son and my husband, those are the things that keep me grounded and centered and there's no better feeling than coming back and seeing him smile after a long day. You put him in a bath, you put him in bed, read a book, those moments are great to end the day and keeps life in perspective because all your child wants from you is love. They don't care about a lot of the things we care about anyway. Being a mom is part of what motivates me in my every day life.
It makes you really understand the definition of being responsible. Because now it's like, every decision I make affects not only my life, but it affects his life. And having my child has really propelled me to focus even more on not only what I want personally, and then also as a businesswoman. It really helps you lock things down. You also understand love much better. It's the greatest force, the greatest thing. Before this, I don't think I understood love honestly, but now I'm better at love, better at loving, better at patience.
Read the full feature and interview here.
(Photos by Dennis Leupold)