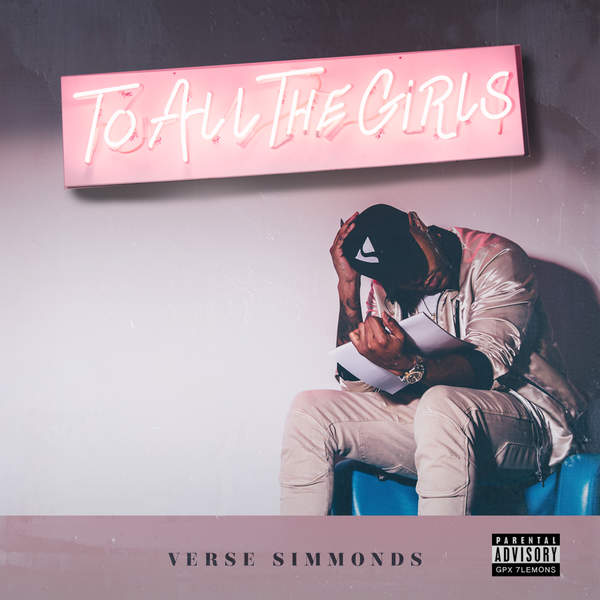 When it comes to singer-songwriter Verse Simmonds, many can attest to his ability to do damage behind the pen for some of the biggest artists in music. In the same breath, those who are fans of Verse as an artist will tell you that his talent is not only conveyed through his substantial list of writing credits, but through the music he's released on his own as well. Though Verse received minor success in 2009 with the single "Buy You A Round," it was 2011's "Boo Thang" featuring Kelly Rowland that gave him massive attention as a singer and foreshadowed the possibility of Verse becoming a household name. However, fans were all left wondering what happened when the anticipated album to follow was never released and mixtapes were supplied instead.
Now, five years and many musical credits later, Verse Simmonds has delivered his well-overdue debut album, and — for those that are wondering — it has been well worth the wait. Titled To All The Girls, the 12-track album is a mixture of Verse's personal touch on energetic club bangers and all night love making sounds.
Though the album is missing previously released tracks such as "Situationships" and the K Camp featured "Mona Lisa," TATG still hosts a solid arrangement of tracks that will easily join the running of some of his best written material to date. Joined in that same running for "best of," is the album's initial track "Best For You" and its follower, "Guarantee" — both of which are of slower tempo. While the aforementioned of the two has Verse willing to give up his love so that she can find the best out there, the latter has him convinced that their love is meant to be.
Giving listeners a taste of his island roots on "In My Feelings" and "Property" featuring Kid Ink, then bringing back remnants of summer with the London On Da Track-produced "Good Girls," Verse Simmonds has the ability to tap into the minds and feelings of R&B lovers with at least one of the 12 tracks on this album. 90s music lovers will also find appreciation in Verse's feature of Boyz II Men's Wanya Morris on the catchy track titled "Ain't For Everybody."
Although the album has a great combination of songs, vocals, and melodies, I can't help but hope that a follow-up album is soon on its way. Through releasing his sophomore album, Verse will not only test his ability as a mainstream artist, but also prove that he has the ability to produce a slew of hits for himself as he's done for other artists over the years.
With five years gone and a debut album now finally under his belt, Verse's second chance at gaining notoriety from behind the pen has arrived, and I'm very glad his invitation didn't get lost in the mail.
After listening to this album consecutively, there's no question why it received the applicable title of To All The Girls. So, to all the girls and boys out there, this is an album that you should be on your 2016 radar.
Take a listen to the full album below and watch the video to "Waterfalls" here.
To All The Girls is available on iTunes now and all other digital platforms.
–Words by Ni'Kesia Pannell